Cabinet Making Business: 4 Questions to Ask When Starting Out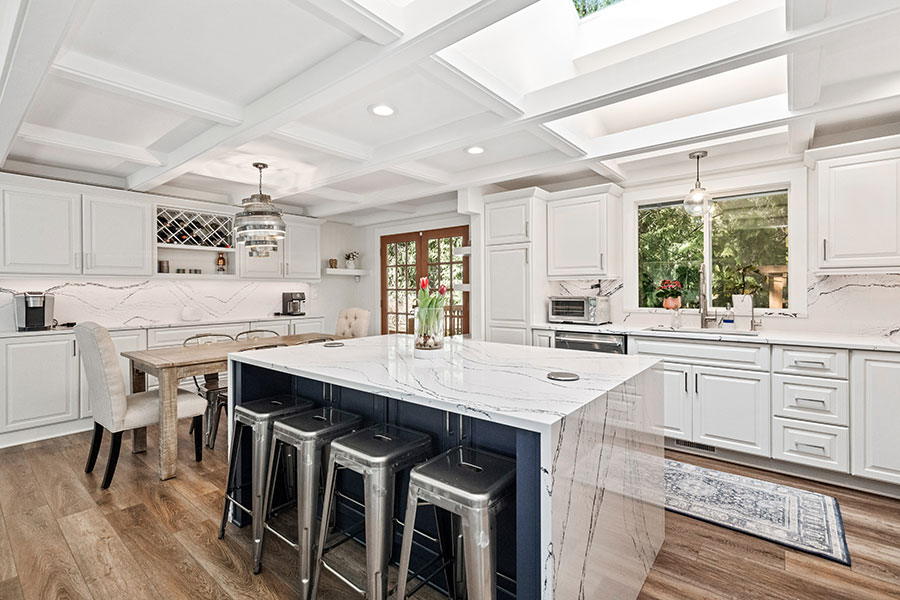 If you're an aspiring entrepreneur with a knack for craftsmanship, a custom cabinet business may be your gateway to financial freedom. Is a cabinet-making business a good investment?
Learn what questions you should ask when considering this opportunity, how to formulate a kitchen cabinet business plan, and what may be a better choice.
1. Is Cabinet Making Profitable?
Demand for cabinets is rising in the U.S. as commercial building rebounds and homeowners invest in home improvement projects. Inflation and supply chain issues increased the price of lumber and other wood materials used to make cabinets over the last few years, which hampered growth. But as the price of lumber moderates, the market is forecast to reach $26.5 billion by 2026, according to Freedonia Group.
The market is competitive, and the initial investment for machinery and materials may be steep, but cabinet making can be a lucrative venture. Profit margins can vary widely, depending on your business model and location. While some cabinet makers report margins as high as 50%, others struggle to break even.
2. What Skills Does a Cabinet Maker Need?
Cabinet making is an art that requires a specific skill set. You'll need training in woodworking, design, and sometimes even software skills for 3D modeling. This training can be time-consuming and expensive, and there's always the risk that even after all that effort, your cabinets might not meet the market's taste.
3. Is Location an Important Factor in the Success of My Cabinet Business?
Geography plays a significant role in the cabinet business. Metropolitan areas with booming real estate markets are often the most lucrative. However, these areas are also the most competitive and come with higher operational costs.
4. What are the Drawbacks of a Cabinet Business?
Custom cabinet making is a time-intensive process, especially if you're a perfectionist. You might have to limit the number of projects you can take on, putting a damper on your earnings potential. Although custom cabinets are still in demand, more customers are turning to stock or semi-custom cabinets to speed up the project timeline. Unlike a diversified home remodeling business, a custom cabinet business also offers limited services, which could be a disadvantage during slow periods.
Kitchen Tune-Up: A Better Business Opportunity
If you're open to other opportunities in the home services industry, consider Kitchen Tune-Up, a kitchen remodeling franchise. Unlike a cabinet business, a Kitchen Tune-Up franchise offers a proven business model with a broad range of services — from cabinet painting and re-dooring to full kitchen remodels. You'll still get to work in the realm of cabinetry but with the added benefit of a well-established brand and a full suite of services that go beyond just cabinet making.
For an initial investment of $129,930, Kitchen Tune-Up offers a comprehensive training program that equips you with the tools you need to succeed, without requiring years of woodwork training. We also offer up to $48,000 of in-house financing to qualified applicants. You'll benefit from ongoing support and getting connected with a regional operations manager who will guide your entrepreneurial journey. The average unit volume for a single Kitchen Tune-Up location was $547,765 last year. *
We're also part of Home Franchise Concepts, a leader in the home services industry. Home Franchise Concepts is the franchisor of ten home services brands, including Budget Blinds, Concrete Craft, Bath Tune-Up, and The Tailored Closet. As a franchisee, you'll enjoy group buying power, which can significantly lower your operational costs. You'll also be part of a community of like-minded entrepreneurs, offering a support system that a standalone cabinet shop simply can't provide.
Remodel Your Future
Before you go against the grain and dive into the custom cabinet-making business, consider the smoother path partnering with Kitchen Tune-Up offers. Inquire now to connect with one of our franchise business consultants and learn more about the brand.
*This is a historical representation of what some of Kitchen Tune-Up's franchised agencies earned as described further in Item 19 of the FDD.