Franchise Training Program: How Ongoing Support Sets You Up for Success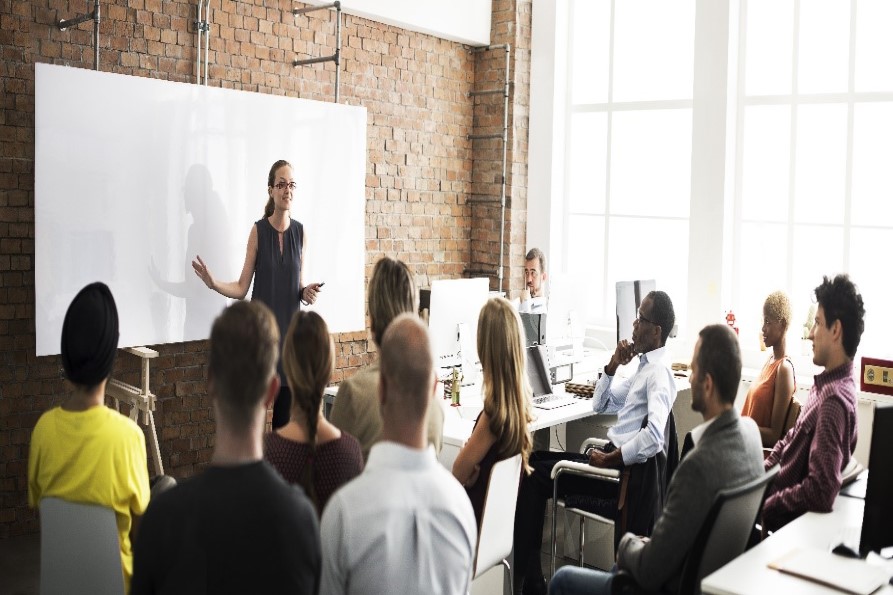 A strong franchise training program sets new franchisees up for success. Learn what support and training to look for in a potential franchise.
One of the hallmarks of franchising is access to a robust franchise training program, ongoing support, and industry guidance to help you reach your profit goals. Investing in brand recognition and proven procedures limits risk, and training paves the way to meeting your financial goals.
There are more than 775,000 franchises in the United States, and the quality of training varies across the board. It's vital to conduct validation of existing franchise owners to determine a brand's level of support. Learn about their startup journey and gain insight into the company's ongoing support as their business matures.
Types of Franchise Support
There are some key indicators of the quality of a franchise training program. Let's explore what a franchisee needs to be efficient and provide high-quality customer service.
Pre-training. Once you attend Discovery Day to learn about the company and commit to starting a business, many franchisors begin by offering an online pre-training program. The online pre-training program gives owners an overview of day-to-day operations and helps them learn about the industry.
Classroom instruction. Franchisees immerse themselves in the brand during intensive training sessions at the company's corporate headquarters. Most companies offer at least one week of in-person training covering everything from business development, operations, sales, and back-office administration.
Field training. Classroom training provides a solid grasp of the brand, but seeing the business in the field will help you prevent startup pitfalls and learn customer service strategies.
On top of initial training, franchisors provide ongoing support to ensure their system maintains a solid reputation and continues to grow. Before signing a franchise agreement, evaluate the parent company's ongoing support initiatives to confirm it meets your expectations and will enable you to achieve your financial goal.
Technology support. One of the advantages of the franchise business model is leaving the technology decisions to the corporate office. Their experts determine the right tools to help you conduct daily operations. Most franchisors offer point-of-sale systems, hiring tools, and sales technology.



Marketing initiatives. Building a solid customer base is necessary to stay on top of the competition. Franchisors often form partnerships with companies and vendors to help franchisees meet their financial projections. Owning a franchise allows you to be part of a national marketing program to promote your brand. A solid franchise system will also provide local marketing support, such as online advertising, marketing materials, and other proven strategies to help drive customer traffic.



Leadership support. The corporate team spearheads new product rollouts, provides business coaching, and should be available to answer questions as they arise. Franchisors use technology for easy access to online support. Frequent webinars and meetings help everyone stay connected.
Kitchen Tune-Up Prioritizes Training
Kitchen Tune-Up has decades of experience guiding entrepreneurs through the franchise process and setting them up for success in the home remodeling field. As one of Home Franchise Concepts' nine home brands, we have the knowledge, skills, and resources, to ensure our franchise owners thrive.
The training at Kitchen Tune-Up starts with a home-study pre-training course to guide you through opening your business. You'll learn how to secure a business phone number and business insurance, develop a marketing plan, and gain access to manuals and videos about our core services. After pre-training, you'll spend five days at our corporate headquarters in Dallas to receive technical training and learn more about marketing, sales, accounting, operations, suppliers, and more. After training, you'll partner with a regional operations manager as part of a 12-week action plan to set you up for your launch.
You can gain a foothold in the booming home remodeling industry for an initial investment of $119,930 to $173,850, including a one-time franchise and territory fee of $79,950. We offer in-house financing to qualified entrepreneurs to help you get started.
Kitchen Tune-Up is well-positioned in the home remodeling space by offering low-cost solutions. By focusing on restoration, we give customers the kitchen of their dreams on a budget. Our business model is not subject to supply chain disruptions, fluctuating material costs, or the ebbs and flows of the economy. We offer cabinet painting, redooring, and resurfacing. For people who want to kick it up a notch, we have a line of custom cabinets to allow people to change the layout of their kitchen and improve functionality.
Build For Your Future
Learn more about Kitchen Tune-Up's franchise training program and how we support our franchise family. Inquire now to connect with an advisor from our franchise development team.