How to Start a Cabinet Business: 5 Tips for New Entrepreneurs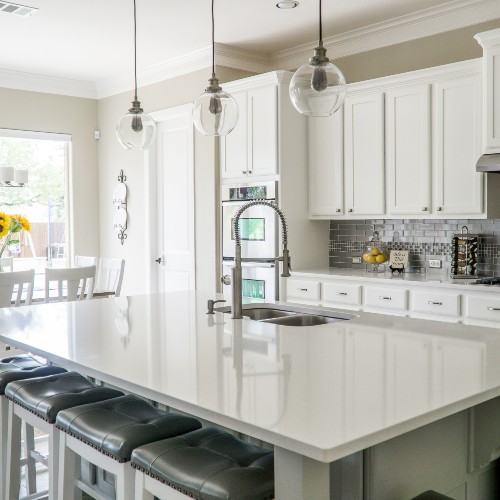 If you've dreamed of putting your entrepreneurial skills to the test and decided to open a cabinet business the choice to take the next step in your career could be the hardest decision you'll ever face.
You might be wondering how to get started and what to do to ensure success. To answer that, we've compiled several top tips and to-dos for those looking into how to start a cabinet business in the lucrative home renovation industry.
1. Collect Your (Business) Tools
You have the ambition and the drive to get things done, but you'll need more than that to give homeowners the kitchens of their dreams. The necessary components of how to start a cabinet business may seem like a long grocery list when you begin. You'll first need to hammer out the paperwork aspect of opening a business, including license applications.
Next, you'll need to find and establish relationships with suppliers. Going it alone can be costly. By joining a franchise like Kitchen Tune-Up, you can tap into our network of vendors and suppliers and purchase at bulk prices, giving you better margins. You may struggle with choosing between using subcontractors or assembling an optimal crew. When you choose to franchise with Kitchen Tune-Up, we give you the tools you need to make the best decisions for your business.
You'll also need to source a vehicle for your business and crews. You more than likely will need to purchase a van (or two). When you buy in to a franchise, they are able to give you the guidance on purchasing all your needs to run your business based on the proven success of their business model.
2. Plan Your Marketing
To run a successful business, you need customers. And to bring in customers, you need an effective marketing strategy. To start your own business, you'll need to define what makes your business unique. Is it the quality of your customer service? The beauty and longevity of your products? The range of services you can provide? You'll need a logo — a small piece of art with a big impact on your business.
Image not having to figure any of this out yourself? You don't have to when you buy a franchise with Kitchen Tune-Up. You'll have access to a ready-made and proven marketing plan. There's no need to create a logo or establish a brand presence, because Kitchen Tune-Up has already done that for you. Franchising offers many benefits that give you a jump-start on operating a successful business versus opening a cabinet business yourself.
3. Crunch the Numbers
Any new business is an investment, and cabinetry is no different. Some entrepreneurs choose to take out a loan to cover all upfront expenses, while others take the time to save up and pay out of pocket until their business sees a profit. Kitchen Tune-Up has affordable financing options to help you get going with all the resources you need to make it in the cabinet industry.
Despite the upfront costs, starting a business like this usually pays off in the long run. People will always own homes, and all homes age and styles and trends come and go. This means cabinetry will need to be replaced or refreshed and your business will more than likely always be in-demand. Profit margins in the kitchen cabinetry business range between 25% and 50%, meaning more money in your pocket and for your business, especially when you source the most cost effective materials and follow a proven business model designed for your success.
4. Assemble Your Team
Learning how to start a cabinet business can be a scary, unknown adventure if you go it alone. Why not go into it with the support and help you need to run a success business from the get-go?
One of the best ways to ensure that your business has the support it needs is to buy an established franchise brand, like Kitchen Tune-Up, which offers many franchise benefits. Kitchen Tune-Up franchise owners use a combination of sub-contractors and those they find on our online job boards to complete kitchen cabinet updates quickly and effectively. With access to our hiring software program, they are able to post their jobs quickly, pushing them out to the top job boards, and easily review applicants online.
5. Find Your "Why"
The journey to business ownership is often long and bumpy, but it doesn't have to be with a franchise. Whether it's independence in income or love of carpentry, your motivation can be the main fuel for the fire that keeps your business going. If you are interested in learning more about owning a Kitchen Tune-Up franchise, or have questions about franchising in general, check out our most frequently asked questions.
At Kitchen Tune-Up, we know that your business is your pride. That's why we connect you with the suppliers, resources, and provide the experience you need to start your own cabinetry business. Visit Kitchen Tune-Up for more information about buying your own franchise and starting down the road to business ownership.