How to Start a Kitchen Remodeling Business: What You Need to Know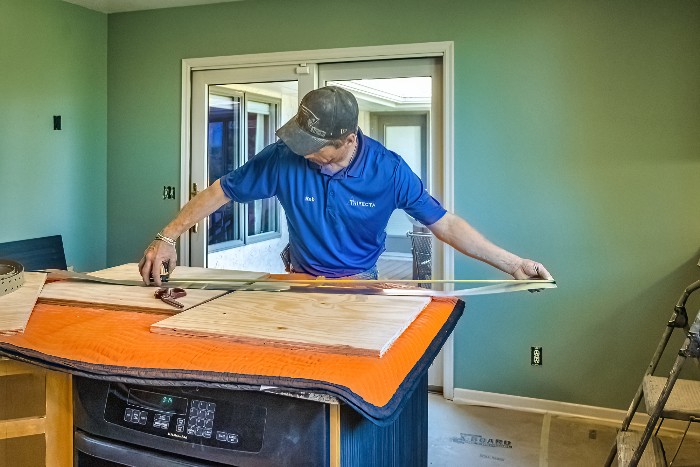 With so many people still working and attending school at home, residential remodeling is booming. Kitchen remodeling is, especially in demand. If you've thought about starting a kitchen remodeling business, what do you need to know to get started?
Let's begin with a key question for anyone new to the business: Should I start my own company or buy a franchise from an already established firm? Let's compare these options.
Franchise Owner
Franchises can make starting a kitchen remodeling business relatively fast. With a franchise like Kitchen Tune-Up, you buy a business rather than setting up your own. The franchise advantage is that you get a recognized brand and everything you need to open your location.
When you purchase a franchise, you don't have to write a business plan and then shop it around to banks, applying for financing. You'll need to show you meet the franchisor's requirements for working capital, but those requirements usually are much less than what's required for starting your own business.
No experience is necessary. You don't have to teach yourself all about remodeling kitchens or running a business. Kitchen Tune-Up provides training so you know how to start a kitchen remodeling business, and provides ongoing training and support throughout your ownership.
Kitchen Tune-Up promises you a "protected territory," meaning no other Kitchen Tune-Up franchise will compete with you in your area. To reach customers in your territory, Kitchen Tune-Up helps with marketing and advertising materials. As a franchise owner, you also get the cost-saving benefits of the franchisor's group buying power for the product. Negotiating better pricing for our franchise owners and their customers is just one more benefit of working within a franchise system.
Buying a Kitchen Tune-Up franchise requires an initial investment of $72,000, which covers the franchise fee, start-up package, training, protected territory, and more.
Business Owner
If you decide to launch your own kitchen remodeling business, you'll need to follow the steps any new business owner must follow. Here's a breakdown:
Do market research. Do you want to remodel kitchens top-to-bottom, handling every aspect of the job? Or do you want your business to focus on a single, niche aspect of kitchens? Do you plan to do hands-on work yourself, hire staff, or employ contractors for parts of the job like electrical work?
What's the competition for these services in your area? Who is the target customer? Are you going after high-end remodels, or remodels for homeowners on budgets?
Find out what type of company you need to form. Should you start an LLC (limited liability corporation), a sole proprietorship or a corporation? You might need legal advice on this step.
Write a business plan and get financing. To convince banks that your kitchen remodeling idea will work, you need to provide details of your proposed business. Your written plan should cover anticipated startup costs, operating expenses, financial goals, hiring plans, and plans for equipment and office or showroom space. You might also need to show you have a remodeling experience.
Starting the simplest kitchen remodeling business, one where you do the work yourself could cost around $50,000 to $75,000. Launching a larger remodeling business could run $250,000 to $500,000, according to business development site TRUiC.
Register and insure your business. You might need not only a business license but also a contractor's license, a license for plumbing and electrical work, and more. Don't forget to buy insurance, too, after consulting with an agent who understands business insurance.
Hire employees. You need salespeople as well as skilled workers. Who will manage the business, handling customer relations, billing, and administration? Where will you find your skilled workers?
Source materials and supplies. Once you have clients, you don't want them to have to wait while you locate materials. You'll need relationships with cabinet companies, countertop manufacturers, flooring companies, and more.
Which Business Model Is Right for You?
The answer depends on knowing yourself and your goals. The franchise owner's effort and drive are crucial to the franchise's success, but the owner must follow the business model and practices of the franchisor company. Franchises have the backing and support of a larger, well-established company and don't have to locate their own financing or write a business plan. Franchise owners know clearly what their start-up costs will be because the franchisor sets those costs.
Independent business owners have more leeway to create their own entrepreneurial practices. They don't pay a franchise fee or other fees to a franchisor. But solo owners do have to conduct their own market research, write business plans, source materials, and labor, and get training. Start-up costs can vary widely.
Buying a kitchen remodeling franchise makes sense if you want to own and run a business, but you also want more certainty, support, and training than you would get as an independent business owner. To find out more about franchising with Kitchen Tune-Up, visit ktufranchise.com, or call 888-980-5210 to speak to a franchise licensing advisor.