Interior Design Franchise: The Pros and Cons of Three Types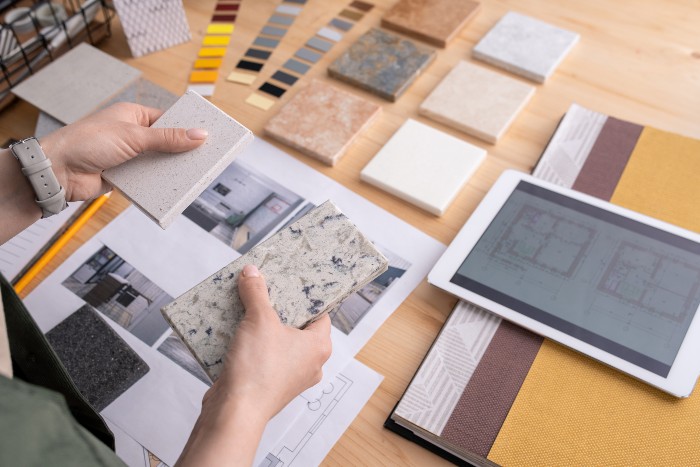 You enjoy making your home the comfortable center of your world. Maybe you've got a flair for figuring out more storage in the kitchen or a gift for choosing the right bathroom fixtures or flooring. Can you turn your interest in interior design into a business? Is there a turnkey franchise out there where you can convert your interest in interior design into a business?
Home improvement and design franchises—especially those focused on kitchens and bathrooms—are popular business opportunities for good reason. Kitchen and bath remodel offer "the biggest bang for the buck" to homeowners, especially during resale, so there are plenty of franchises specializing in the kitchen or bath design, writes Joel Libava, a franchise ownership counselor and blogger for the Small Business Administration.
What Do Interior Design Franchises Do?
"Interior design" covers a wide range of services and products. Franchising opportunities include window, blinds, and drapes, garage organization systems, closet organization systems, the interior decoration consulting, and fabric and upholstery restoration. But the interior design changes with the biggest returns are kitchen and bath remodels. Take a look at these types of interior design franchises. Does one of these capture your imagination?
Cabinet restoration, refacing or redooring
Wood cabinets collect grime over the years, and because cabinets get daily use, they end up dinged and scratched, too. Completely replacing cabinets can be prohibitively expensive. Franchises with the skills to renew cabinets without fully replacing them are attractive to homeowners seeking great-looking but lower-cost solutions. Wood restoration cleans and refreshes old cabinets. Redooring keeps the cabinet frames while replacing only the doors. Refacing replaces doors but also covers the existing cabinet frames with matching veneers.
These solutions can take just a few days from start to finish, making them a great choice if you like focused, shorter-term projects. But if you lack interest in the nitty-gritty of cabinet materials, you likely don't want to focus just on cabinet restoration. A bigger canvas of full kitchen remodeling might be a better choice.
Kitchen remodeling
Remodeling a kitchen can be as simple as renewing or replacing cabinets and countertops exactly where they're currently located. It can be as complex as relocating cabinetry, adding kitchen islands, removing walls, selecting beautiful new wall surfaces, or creating new storage—all while helping clients make decisions about decorative styles. A kitchen remodeling franchise like Kitchen Tune-Up could be right for you if your interest in interior design means you want to see projects through from floor to ceiling, or if you like the challenge of rearranging someone else's kitchen to better meet their needs.
Bathroom remodeling
Some franchises focus just on tub and shower upgrades, but remodelers like Bath Tune-Up can handle everything from floor to ceiling, lighting to plumbing, and the many decisions in between. Bathroom trends now lean toward using greener, higher-tech solutions, or creating spa-like bathrooms that become retreats at home or accommodating families better by creating more family-friendly bathrooms.
Is an Interior Design Franchise Right for Me?
The pros and cons of owning interior design franchises depend on your own expectations and strengths.
Do you want a career change to a whole new field, but without having to start from scratch? Pro: franchises like Kitchen Tune-Up and Bath Tune-Up offer extensive, ongoing training and business support so you don't have to have experience to get started—just bring your interest in interior design with you and they train you on the rest.
Do you prefer to be your own boss and set your own schedule? Pro: franchising gives you tools to set up your business but lets you determine the time you put in and how much you want the business to grow. Con: bath and kitchen franchises aren't good contenders if you want a part-time gig or a supplemental side business while you keep a full-time job.
Do you do well following someone else's playbook? Franchising provides a template you'll need to follow for success. Pro: you don't have to handle startup hassles like getting legal and accounting help, locating vendors, and figuring out how to market your business. Con: if your creative side doesn't like sticking to playbooks, an interior design franchise might not be right for you.
Is There Demand for Interior Design Franchise Services?
Clients are out there. Demand for home improvement and interior design was increasing before the pandemic. From 2017 through 2019, homeowners in the United States spent $522 billion on home improvements—an increase of $72 billion over the previous two-year period, according to a Nerdwallet study of census data.
Since then, the pandemic has only boosted homeowners' interest in interior design services. Spending so much time at home has prompted homeowners to want more space, better storage, and more convenient, functional options, especially in high-traffic areas like kitchens and bathrooms.
The home improvement industry overall will keep flourishing over the next five years, the Better Business Bureau says. Per capita disposable income is expected to keep increasing, giving homeowners more to spend, on top of the money they've saved by staying home for most of a year during the pandemic. Kitchen and bathroom franchises will reap the benefits of that disposable income.
Most of that money goes to companies like kitchen or bath franchises, too: Homeowners hire professionals for 63 percent of home improvement projects. While homeowners will tackle smaller, less expensive jobs themselves, they still prefer hiring pros for more jobs—and for bigger, pricier jobs. That means home improvement franchises are a good bet for the future.
Homeowners see a solid return on investment for bathroom and kitchen remodels, too. For example, real estate site Zillow says the national average ROI on a bathroom remodel can vary from 59 percent to over 80 percent, depending on what the job includes and where the home is located. The ROI boost is another boon for franchises that specialize in these kinds of remodels.
Inquire Today About Your Franchising Future
Interested in how you can turn your interest in interior design into a franchise opportunity? Inquire now about how Kitchen Tune-Up and Bath Tune-Up can turn your business dreams into realities. Visit ktufranchise.com or call 1-888-890-5210 or visit franchise.bathtune-up.com or call 1-866-437-0202 to speak for a franchise licensing advisor.