Kitchen Solvers Franchise v. Kitchen Tune-Up: How They Compare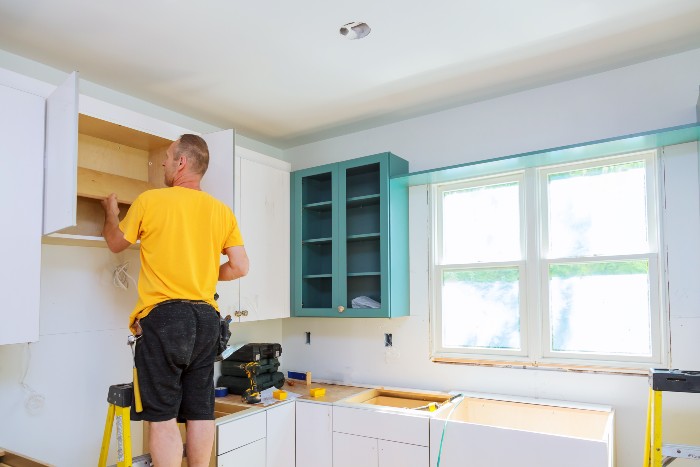 You're interested in franchising, and the home improvement market is strong. Homeowners want to upgrade kitchens, especially now that many people spend so much time working, playing, and cooking at home. Is a kitchen remodeling franchise the way to go? Compare two well-known companies—Kitchen Tune-Up and Kitchen Solvers—to see which is the best fit for you.
Let's look at each franchisor's services, story, and investment expectations.
Kitchen Solvers
Services Provided
Franchisees offer these services:
● Cabinet refacing. Kitchen Solvers' original focus, refacing covers existing cabinet boxes with veneers, then adds new doors and drawer fronts.
● Custom cabinetry.
● Storage solutions, including roll-out drawers and other organizers.
● Kitchen remodeling. For both Kitchen Solvers and Kitchen Tune-Up, remodels can be as simple as adding a kitchen island or as comprehensive as a full remodel from floor to ceiling.
● Bathroom remodeling. Kitchen Solvers adds bathrooms to its full remodeling services, offering shower and bath design, tiling, fixtures, and flooring.
Company Background
Kitchen Solvers opened in 1982 as a home-based family business offering cabinet refacing services in LaCross, Wis. Within a year, the company expanded to serve the entire state. Kitchen Solvers opened its first U.S. franchise in 1984 and in 1999 began franchising in Canada. In 2020, the company had more than 52 franchises.
Investment Required
Kitchen Solvers lists franchisees' initial start-up costs as ranging from $88,031 to $113,292. The start-up cost covers the initial franchise fee, start-up training, pre-opening advertising, supplies and equipment, a computer system, and more.
The company requires applicants to have liquid capital of $60,000 and a net worth of $150,000.
Like many franchisors, Kitchen Solvers helps potential new owners seek financing. The company works with third-party sources to provide financing to qualified franchisees, according to Entrepreneur.


Kitchen Tune-Up
Services Provided
Kitchen Tune-Up initially focused on its unique wood reconditioning service, then expanded to offer a menu of kitchen remodeling options:
● The Original Tune-Up. This is the company's signature service, a wood cleaning, and restoration process to refresh old cabinets.
● Cabinet redooring. One of the simplest ways to update a kitchen, redooring is a cost-effective solution.
● Cabinet painting.
● Cabinet refacing.
● Custom cabinets.
● Full kitchen remodeling. Kitchen Tune-Up specializes in completing remodels efficiently, sometimes in days.
● Countertops.
● Accessories and organizers.
Company Background
Founder Dave Haglund owned a cabinet business in Aberdeen, S.D. He devised a unique process for restoring wood to like-new condition and launched Kitchen Tune-Up in 1986. In 1988, the family company sold its first franchise. Kitchen Tune-Up became a member of the Home Franchise Concepts (HFC) family, one of the world's largest franchising systems in the home improvement goods and services space. In 2019, JM Family Enterprises, Inc. acquired HFC, and along with it, the Kitchen Tune-Up brand. JM Family Enterprises has earned various awards for its culture, products, and services, including 23 consecutive years on Fortune's 100 Best Companies to Work For list. As of 2021, Kitchen Tune-Up has 213 franchises across the United States and its first location in Canada.
Investment Required
The initial investment to own a Kitchen Tune-Up franchise is $72,000, which covers the franchise fee, start-up package, training, protected territory and more. But the amount a new franchise owner pays actually can be as low as about $57,000.
Here's how: The initial investment is $71,950. Kitchen Tune-Up requires potential franchisees to have $26,480 in working capital. That means a new owner needs $98,430 for the total investment. With financing of $41,600 (the maximum) for qualified candidates, total cash required to start a Kitchen Tune-Up franchise can go down to $56,830.
Kitchen Tune-Up offers in-house financing, as well as third-party financing.
Consider the Kitchen Tune-Up Advantage
These two kitchen remodeling firms offer some similar services and aim for the same residential customers. Which differences give Kitchen Tune-Up the advantage? Let's list some ways. Kitchen Tune-Up offers:
● A lower initial start-up cost ($72,000 compared to $88,000 and up).
● A focus solely on kitchen remodeling. Kitchen Solvers includes bathroom remodeling as one of its services. Kitchen Tune-Up specializes in kitchens while offering more kitchen improvement services than Kitchen Solvers. If you prefer to focus on kitchens only, Kitchen Tune-Up has that focus. (Kitchen Tune-Up has a sister company, Bath Tune-Up, but its franchises are separate from Kitchen Tune-Up, but offer the same exemplary service.)
● In-house financing, so you do not need to deal with a third party outside the franchisor company when you apply for financing.
● Participation in a corporate family of well-established home improvement brands.
● A mentoring program. Kitchen Tune-Up connects new franchisees with experienced ones for personal mentoring, to ensure franchisees learn from each other.
Contact Kitchen Tune-Up today to learn how its deep roots in home remodeling and franchising make it an attractive prospect for new business owners like you.