Open a Kitchen Remodeling Business Without a Remodeling Background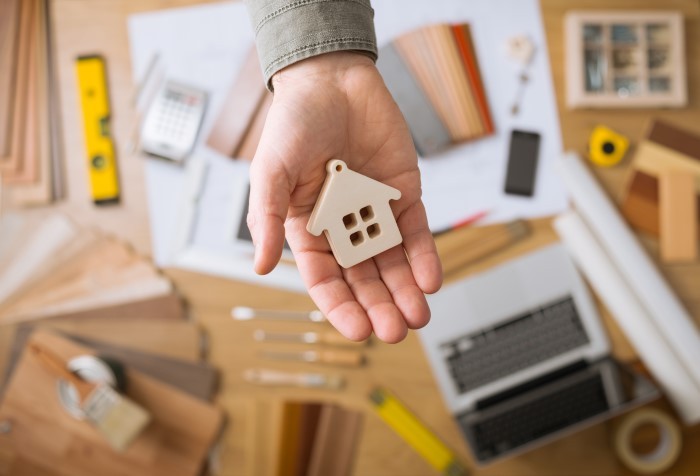 After so long at home, homeowners are sprucing up their houses, and the remodeling industry is growing. Especially for large projects, kitchen remodeling is on the upswing. Is this expanding business opportunity limited to those with remodeling experience?
You don't need experience installing cabinets or supervising contractors to get in on the kitchen remodeling boom. You just need the right support and training, and an established business model of a Kitchen Tune-Up franchise can get you there. See how a kitchen remodeling franchise can be right for you, even if you're new to managing any business at all.
Demand for Remodeling Grows
The National Kitchen and Bath Association (NKBA) reported that demand for kitchen and bath remodeling soared to an "all-time high" earlier in 2021. Another good sign for the remodeling industry overall: While 2020 was about smaller, less expensive home improvements, in 2021, homeowners turned their attention to mid-range and high-end projects, according to NKBA''s annual Market Outlook.
Home design site Houzz confirms that kitchen remodels are benefiting from this trend toward bigger projects. The median amount homeowners spent on major remodels of large kitchens rose 14 percent between 2019 and 2020, from $35,000 to $40,000, Houzz reports in its 2021 Renovation Trends Report.
Now is a great time to get into the kitchen remodeling business, even if you lack a remodeling background.
No Experience Needed—Really
When Kitchen Tune-Up says, "No experience necessary," it's the truth. Only 6 percent of Kitchen Tune-Up owners had any previous experience in the construction business. Another 1 percent joined Kitchen Tune-Up with backgrounds in the fields of cabinet design or cabinet business.
That's all. A total of just 7 percent of owners had any type of remodeling, construction, or cabinet industry experience.
If you apply for a Kitchen Tune-Up franchise without a remodeling background, you're in good company. Ninety-three percent of current franchisees come from backgrounds other than renovation or construction. Kitchen Tune-Up owners hail from fields including retail (19 percent), business management (10 percent), and sales (7 percent). Another 10 percent of franchisees are entrepreneurs. Other owners come from accounting, information technology, consulting, marketing, medical, and other backgrounds.
How can people with such different experiences all succeed at the kitchen remodeling business? How do medical professionals, accountants, and sales representatives end up on the same page, helping homeowners create more functional, beautiful kitchens? The answer is the franchise model.
No Experience? How the Franchise Model Helps
Franchising provides the chance to be an entrepreneur, but with the backing of a known brand and proven processes. With a franchisor at your back, you don't need experience in the specific industry, or even business experience, to open a franchise, notes Kelly Mangum, writing for Franchise.com. "Opening a franchise can be your first plunge into the business world," Mangum says.
What Makes a Good Franchise Owner?
Strong candidates need personal qualities that set them up for success in any industry. Kitchen Tune-Up looks for applicants who are:
● Great at managing people and projects.
● Skilled in excellent customer service.
● Detail-oriented: Able to attend to the smallest aspects of a project.
● Process-oriented: Able to follow a franchisor's steps and methods consistently.
● Entrepreneurial: Ready to be in charge, but also enthusiastic about joining a larger family of franchisees.
Training Is Crucial
Comprehensive, continuing training takes people with these qualities and gives them the tools to run a kitchen remodeling business. Those tools aren't saws and screwdrivers. Instead, training focuses on running a business, not remodeling kitchens. Take a look at how Kitchen Tune-Up trains new owners:
● Business basics. A home study course focuses on details like how to set up business insurance and a business phone. Learn about Kitchen Tune-Up's services. Start work on your marketing plan, with help from the marketing department.
● Hands-on training. Meet other new owners and the headquarters team for an eight-day, in-person course where you learn how to operate your franchise, from dealing with suppliers to hiring staff to scheduling projects.
● Mentoring and the 12 Week Action Plan. Return home and start weekly, online training modules you can access from anywhere, including your phone. A mentor will check in weekly to answer questions. During this time you're starting your business.
● Kitchen Tune-Up Connect. Connect keeps you in the loop as you talk with your personal Connector at the Home Office as often as you like.
● Ongoing training and communications. Keep current on business developments, kitchen trends, and franchisee advice, thanks to podcasts, webinars, newsletters, a Facebook group, coaching calls, and the annual National Reunion of owners.
With additional supports like marketing campaigns, computer systems, and tech support, Kitchen Tune-Up sets up local franchisees for success.
You can join this lucrative market without any experience. Just choose a supportive kitchen remodeling business with top-notch training and a proven brand. Talk to Kitchen Tune-Up today and find out if the kitchen remodeling business is right for you.