Remodeling Market: A Guide to Industry Trends and Profitability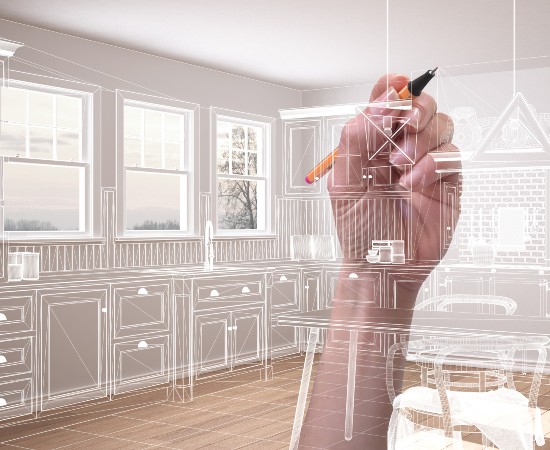 If we were to choose one word to describe the kitchen remodeling market right now, that word would be "up." Everything seems to be going up. Whether it's consumer demand, the number of remodeling business opportunities, or the average profits of operators in the industry, the numbers don't lie. Right now is a great time to get into the kitchen remodeling market.
The industry as a whole is experiencing a boom in growth, originally driven by national lockdowns. Once people started spending more time in their homes, they began spending more money on their homes. This led to massive growth for virtually every sector of the remodeling market that kept momentum even throughout the supply chain issues and lumber price spikes of 2021. Statistical projections show that this growth is likely to continue through 2022 and over the next few years as demand for housing continues to remain strong. This growth means that starting a business in this industry is a great way to meet the needs of customers as well as generate excellent profits.
How Big Is the Remodeling Industry?
The remodeling industry certainly isn't small. A Brandessence Market Research study showed that the global home improvement market size reached $798.10 billion in 2021. The average spending on home improvement projects isn't small, either. With the spend amount coming in at an average of $15,000 per project, consumers everywhere are ready to invest in customizing and beautifying their homes.
The massive scale of the industry means there are now more ways than ever to invest in the opportunities provided by home remodeling. One of the best ways to get into an industry like this is franchising. There are now hundreds of different franchise opportunities available across the country, but one of the undisputed leaders of kitchen remodeling is Kitchen Tune-Up.
Kitchen Tune-Up gives you the opportunity to make a small initial investment to tap into the high-profit potential of the kitchen remodeling industry. For instance, the average gross profit margin on a cabinet refacing project is 58%! We also provide you all the training and support you need to lead your new franchise to success. Are you concerned because you don't have any experience in home remodeling or kitchen renovation? Don't worry — over 90% of our franchise owners come to us with little to no experience in the home improvement market.
Remodeling vs. Renovation – What's the Difference?
It's a common practice to use the terms renovation and remodeling interchangeably in any discussion of home improvement. However, there are differences between the two that you should be aware of when deciding how and where you want to invest in this industry.
Basically, a renovation consists of a project that is more cosmetic in the changes it makes to a space. A remodeling project, by contrast, goes deeper and makes more dramatic changes to the space using demolition and deconstruction. So, a kitchen renovation, for example, might consist of painting the walls, adding new flooring, replacing the fixtures, and refacing the cabinets. All of these activities can be done without impacting the walls, the pipes, or the wires that form the bones of the house.
In the end, you have a space that is more beautiful and updated but is not fundamentally changed in structure. A kitchen remodeling project would go further. In this case, you might knock out a wall in the living room to create an open-concept kitchen. Then, you might change the location of the sink, diverting the pipes to a new location. This should give you an idea of the general differences between remodeling and renovation.
How Many Remodeling Contractors Are There In The US?
According to an IBISWorld Industry Report, there are about 496,715 remodeling businesses in the United States as of April 2022. This report also shows that the states with the highest number of businesses in the remodeling market are California, New York, and Florida. It's clear why so many businesses have started recently. Savvy people are trying to invest and cash in on the profits of a market that's been doing well and is only predicted to keep growing.
However, the competition is fierce, and the survival rate of small businesses, even with all these opportunities, is still somewhat low. It can be hard to break into an industry that so many others are also trying to access. This venture is even more difficult because many of your competitors have more experience and are more established in your target area.
As a result, customers are more likely to recognize them and go to them for services instead of you. That's yet another reason why choosing a franchise from a reputable, trustworthy company like Kitchen Tune-Up is such a great decision. Instead of starting from scratch and trying to establish a name in the face of such fierce competition, franchising lets you jump straight in with a name that has over 30 years of experience serving customers behind it. People know and trust Kitchen Tune-Up, which means they'll know and trust you. This gives you a competitive advantage and can allow you to experience more stability as well as more consistent profitability.
Is The Remodeling Business Profitable?
The remodeling business is undoubtedly profitable for several reasons. First, spending is still expanding at record rates as a result of the boom we already mentioned. The Leading Indicator of Remodeling Activity (LIRA) suggests that this unprecedented boom will continue through the third quarter of 2022. After that, growth is projected to continue to expand, but at a somewhat more sustainable rate.
It's important to remember that the remodeling industry is not just growing because of recent world events. This isn't just a flash in the pan. Certain stable indicators have been driving demand higher in the home improvement market for years and will continue to do so. For example, homes in the U.S. are getting older. In 2001, the average age of an American home was 31. In 2019, the average age was 39 years old. As Americans' houses continue to age, more and more homeowners will be looking for renovation businesses and kitchen remodeling services.
Plus, as new generations get older, the number of American homeowners continues to increase, resulting in more customers interested in getting these kinds of services. These long-term growth factors are yet more reasons why there may never be a better time to invest in a kitchen remodeling franchise such as the one offered by Kitchen Tune-Up.
The Kitchen-Tune Up Difference
Kitchen Tune-Up has the experience and support you need to build and grow your own successful franchise. We provide more training and networking opportunities so that you can connect with other franchisees who are on the journey with you. Plus, we are also members of the Home Family Concepts (HFC) family of well-known brands that have been helping franchisees succeed in a variety of home improvement sectors for over 30 years. If the trends we discussed in the remodeling market have inspired you, reach out to us today!