Renovation Business: Why a Buying a Franchise Makes the Most Cents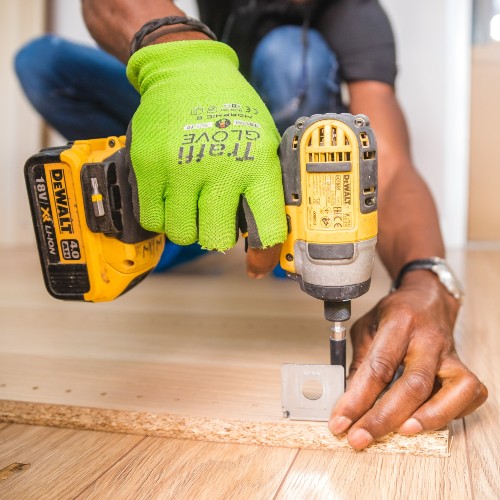 Home renovation spending grew 15% in 2021, reaching a median $15,000 average per project. Projections for 2022 show that the market will continue to grow. Increased spending and optimistic projections make this a great time to start a home renovation business. Still, renovations are different from remodels, so it is essential to understand the difference when considering a home improvement business.
Renovation vs. Remodeling
It is common to use the words renovation and remodeling interchangeably, but some key differences matter when planning a project or opening a business. For example, a renovation involves updating a look without changing the layout or purpose of a space. Remodeling changes the design, structure, and potentially the function of a room or area of a home.
Other vital differences involve cost and permitting. For example, some renovations may require a permit; however, remodeling almost always will. Remodeling is costlier than renovating; therefore, renovations' return on investment (ROI) is more significant for both homeowners and renovation business owners.
How to Start a Renovation Business
There is an excellent market opportunity for starting a home renovation business. Home renovation spending continues to increase, and the demand for professional renovation services is high.
When considering a home renovation business, choosing a niche or focus for your business is wise. Another decision involves choosing between an independent company or buying a franchise.
Choose a Niche
One of the first steps in starting your home renovation business is choosing the right niche for you. Home renovation niches include kitchens, bathrooms, roofs, flooring, window coverings, and many other areas of home renovation. A dedicated focus is a key component to successfully growing your business.
Independent or Franchise
On Your Own: Starting a business involves market research, developing a solid business plan, choosing technology, establishing management systems, selecting and purchasing equipment, and 100% of the marketing efforts that will help you establish your customer base.
Franchise: Buying a franchise involves many of the same aspects of going out on your own, only with access to resources, support, and brand recognition. A franchise business often comes with training hours that include administrative training and learning about your specific home improvement niche.
Benefits of Buying a Franchise
Buying a franchise may require more initial investment; however, the benefits are worth the investment and may pay off quicker in the long run. Franchise ownership benefits include:
Brand recognition
Business resources.
Ongoing support.
Training in business management and trade skills for your home renovation niche.
Connections with preferred vendors.
Assigned territories, some exclusive or protected.
Many home renovation franchises are home-based businesses.
Starting an independent home improvement business or buying a home improvement franchise involves risks and many hours of dedication. Another one of the many benefits of buying a franchise is managed risk. With a franchise, most risk factors are identified and assessed, and while there is still risk based on uncontrollable factors, a support system to help you through a set of managed risks will help set you up for greater potential success.
Kitchen Tune-Up Franchise
When choosing a dedicated focus for your home renovation business, kitchen renovations are an excellent choice. Kitchen projects are the most popular renovation choice among homeowners. Kitchens are where many families spend the most time, making them a desirable renovation project. In addition, kitchen renovations have an average ROI of 81% for minor renovation, while mid-range to major high-end ones have a 50-60% average ROI. Growth in the home renovation sector is expected to continue in 2022, and kitchen renovations remain in demand.
If kitchens are an area you are interested in for your home renovation business, a Kitchen Tune-Up franchise may be for you! Specializing in kitchen updates and renovations, Kitchen Tune-Up offers a unique concept that personalizes design services for customers, offering high-end options through a simple, stress-free process. A recognized brand with over 34 years in the kitchen renovation business, a Kitchen Tune-up franchise requires a moderate investment, many franchise benefits, and a fairly quick start-up time frame.
Buying a Franchise Makes the Most Cents
Due to the many benefits offered to franchise owners, the initial investment and potential for success make buying a franchise an excellent choice for business ownership. Franchising puts business owners in a position to profit faster than independent business owners because the franchisor has already gone through the trial-and-error process of establishing a new business. Franchisors offer franchisees a proven business model and train them to carry it out. The benefits of owning a home improvement franchise outweigh the risks of starting an independent home improvement business.
If you are considering a home improvement franchise, we hope you will consider Kitchen Tune-Up. Kitchen Tune-Up is part of Home Franchise Concepts, helping people reach their dreams of business ownership for 30 years. Deciding to buy a Kitchen Tune-Up franchise, you give yourself quality training, support, and resources to get your new business off the ground in today's excellent home renovation market. Contact us today for more information.