Running Your Remodeling Business: Beware of These 7 Red Flags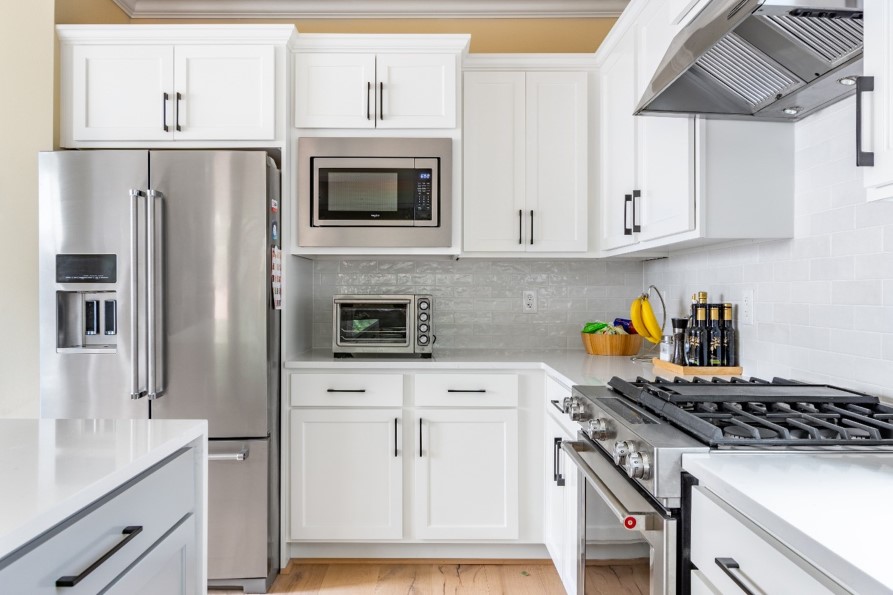 Starting a remodeling business? Make sure your efforts are a success. Kitchen Tune-Up can help you learn common problems when running your remodeling business and how to avoid them.
Home Remodeling Offers Promise
A home remodeling business can be a great opportunity to pursue your passion for home improvement while also running your own business. The home remodeling industry is forecast to hit $485 billion in 2023, up 2.3% from last year, according to the Joint Center for Housing Studies of Harvard University.
Starting a business from scratch can be a heavy load. Launching and running an independent remodeling business may present you with many challenges. Franchising offers access to a proprietary business model with guidance, support, and training to help alleviate some of the startup hassles and stay focused as you ramp up your business.
Kitchen Tune-Up is a kitchen remodeling franchise with a national reputation for making kitchens look new and improved for the last 30 years. With a network of over 170 individual franchisees in 275 protected territories across the U.S. and Canada, Kitchen Tune-Up is a low-overhead, scalable opportunity that can be operated from a retail location or home office. We focus on restoring existing kitchens to give them a more modern appearance and offer an established plan for running your remodeling business.
"We started the business when we were in our early 40s with three kids about to go to college. We couldn't take on the risk of starting something from scratch and decided that a franchise was our best chance for success. I've always had a passion and goal to have my own business," said Jeff Toren, a Kitchen Tune-Up franchisee in Philadelphia.
Avoid Common Startup Challenges

As you get started, here are some tips to help you avoid some of the common pitfalls and ensure your remodeling business is a success.


Lack of planning: Before starting a remodeling business, it's important to create a comprehensive business plan. This should include your target market, services you will provide, pricing, and marketing strategies. A franchise provides a clear roadmap for your business to help you stay focused and avoid roadblocks. Having access to the Franchise Disclosure Document (FDD) provides details on startup expenditures and can give you insight into the overall health of the brand.

Kitchen Tune-Up owners follow a 12-step action plan to ensure they stay on the right track. As a franchisee, you'll meet regularly with a regional operations manager and have access to online tools for ongoing support.
Inaccurate estimates: Providing accurate estimates is crucial for any remodeling business. If your estimates are consistently inaccurate, you risk losing money on jobs or not getting hired in the first place. Take the time to assess the cost of labor, materials, and any other expenses that will go into each project. Kitchen Tune-Up has the training and software tools that allow owners to provide customers with on-par estimates. Focusing on restoration services and offering a curated design lineup helps eliminate some of the guesswork for both customers and owners.
Failure to communicate: Communication is key to any successful remodeling project. If you fail to communicate effectively with your clients, subcontractors, and employees, you risk delays, misunderstandings, and unsatisfied customers. Set clear expectations and establish regular communication channels to ensure everyone is on the same page.

Our operating system is designed to ensure appropriate communication every step of the way. It handles everything from proposals and payments to reports and workflow. A two-way texting system alerts clients when the contractor is on their way and our scheduling technology allows you to manage team members' calendars and implement email marketing.
Not enough insurance: Remodeling work can be risky, and accidents can happen. It's important to have adequate insurance coverage to protect yourself and your business. This includes liability insurance, workers' compensation insurance, and property insurance.


Poor time management: Time management is critical for any business owner. When running a remodeling business, it's important to set realistic timelines for each project and to manage your time effectively. If you consistently miss deadlines or run behind schedule, you risk damaging your reputation and losing clients. Ongoing support from Kitchen Tune-Up's corporate office and our scheduling software helps our franchise owners get ahead of any time management concerns.


Inadequate financial management: Proper financial management is essential for any business. Make sure you have a system in place for tracking expenses, invoicing clients, and managing cash flow. If you don't stay on top of your finances, you risk running into cash flow problems or even going out of business. Each Kitchen Tune-Up franchise owner uses QuickBooks for billing and to track revenue.


Insufficient quality control: Quality control is essential for any remodeling business. If the quality of your work is inconsistent, there is a possibility of harming your reputation and losing clientele. Make sure you have systems in place for checking the quality of your work and ensuring that it meets your clients' expectations. To ensure Kitchen Tune-Ups' contractors deliver superior service, we have them sign a non-compete agreement and offer video training and tutorials to outline expectations.
Get Started with Kitchen Tune-Up
Kitchen Tune-Up has the tools and systems to help you start and run a home remodeling business successfully. To remodel your future as a Kitchen Tune-Up franchise owner, inquire now to connect with a franchise advisor and learn more about the remodeling industry.