ShelfGenie Franchise Cost v. Kitchen Tune-Up: Which is Better?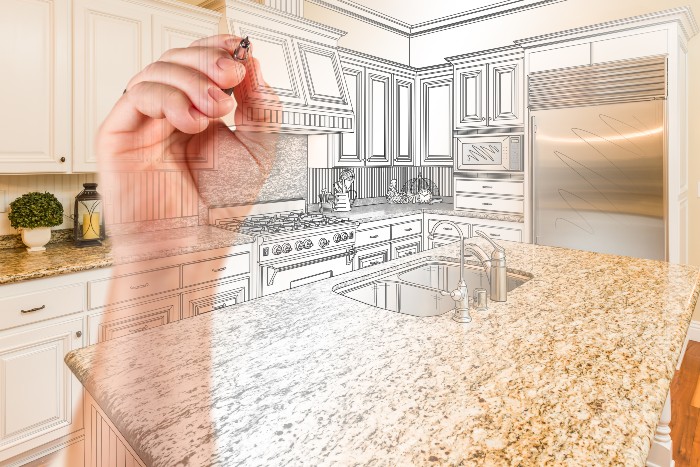 If you're looking to get into the booming home improvement market, you might be investigating ShelfGenie. What does a ShelfGenie franchise cost, and is it the right franchise opportunity for you? Learn more about this custom shelving firm and how it compares to Kitchen Tune-Up.
Compare the Companies
ShelfGenie is the more specialized of the two companies. ShelfGenie creates slide-out shelves to fit customers' existing cabinets, old or new. The company doesn't build or install cabinets. ShelfGenie promises easy-to-use, gliding shelving that increases storage by up to 50 percent. They focus on shelving for kitchens, pantries, bathrooms, and garages.
The company launched in 2000 and began franchising in 2008, according to Entrepreneur. Franchises design customers' shelving solutions, then ShelfGenie's affiliate company builds the unique shelving, which the franchise installs in the customer's home.
Kitchen Tune-Up began franchising in 1988. Kitchen Tune-Up remodels kitchens in one to five days. Its core services include The Original Tune-Up (a cabinet restoration process), cabinet repainting, refacing, and redooring, and custom-built cabinetry. Kitchen Tune-Up also can redesign and remodel an entire kitchen from floor to ceiling.
Kitchen Tune-Up also creates custom slide-out drawers, trays, trash organizers, drawer organizers, built-in spice racks, and more.
While both Kitchen Tune-Up and ShelfGenie are in the slide-out drawer business, ShelfGenie specializes only in custom drawers and accessories. Kitchen Tune-Up provides broader cabinetry services and full remodeling services, while also doing business in the custom shelving market like ShelfGenie does.
Compare the Costs
Here's how ShelfGenie breaks down the initial cost of buying a franchise:
• Initial franchise fee: $69,500 for the executive franchise ownership model; $29,500 for the owner/operator franchise model.
• Estimated initial investment range: $90,600 to $135,500 for the executive franchise model; $42,350 to $66,750 for the owner/operator model.
• ShelfGenie notes that the actual initial investment is set on a "case-by-case basis" and will vary.
Kitchen Tune-Up's cost for purchasing a franchise looks like this:
• Total initial investment: $71,950. This amount includes the franchise fee, all initial training, initial product inventory, hiring software, marketing materials, a computer, access to Kitchen Tune-Up's suppliers, and much more.
• Alongside that initial investment, the buyer needs $26,480 in working capital, bringing the total investment to $98,430.
• Kitchen Tune-Up can provide in-house financing for qualified buyers. Kitchen Tune-Up's franchise information shows that with $41,600 in the financing, a buyer's total initial investment goes down to a final $56,830.
The overall cost to launch your own Kitchen Tune-Up franchise is less than that for launching a ShelfGenie. Cost alone isn't the only yardstick to use when measuring a potential purchase, though. Consider whether you want a specialized business like ShelfGenie, focused on one aspect of home improvement, or a business like Kitchen Tune-Up, offering more than one type of service within the home improvement space.
What They Share
Kitchen Tune-Up and ShelfGenie have some features in common:
• For military veterans with honorable discharges, both companies offer a 15 percent discount on buying a franchise.
• Both Kitchen Tune-Up and ShelfGenie commit to giving franchise owners protected territories. In your protected territory, you are the sole franchisee for that company. No one with another franchise of your company can set up shop in your territory to compete with you.
• The companies provide extensive training for new owners.
• No experience is required by either company. Neither ShelfGenie nor Kitchen Tune-Up expects new owners to start out with any shelving, remodeling, construction, or similar experience under their belts. Company training and support fill gaps in inexperience.
What Else to Consider
Besides cost, look at factors like these before you buy any franchise.
Is there customer demand for these home improvement services now, and is the demand likely to grow? Home improvement of all types is booming, as homeowners spend more time at home and turn homes into combined offices, schools, restaurants, and entertainment complexes. The overall remodeling market will stay strong and keep growing right into 2022 and beyond, according to Harvard's Joint Center for Housing Studies.
Am I able to draw on other franchisees' experience and expertise? You want a franchisor willing to connect its franchisees so they can learn from each other.

What's my long-term plan for owning any franchise? Where do I want to be in three, five, or 10 years personally? You need to understand yourself and your reasons: Do you want to be your own boss? Make a certain amount of money? Have more time for yourself?
Kitchen Tune-Up offers a lower initial cost while allowing you, as a new owner, to offer more types of services to homeowners. More services mean more opportunities to gain business. To find out about Kitchen Tune-Up franchising, visit ktufranchise.com, or call 888-890-5210 to speak to a franchise licensing advisor.