Starting a Kitchen Cabinet Business: Pros & Cons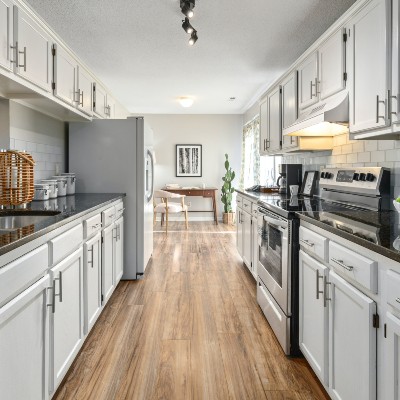 Kitchen cabinets are very important to homeowners. Quality cabinets make using the kitchen more enjoyable and increase a home's market value. According to a recent study conducted by The Freedonia Group, the demand for kitchen cabinets is forecast to rise 4.6% every year until it reaches $17.3 billion by 2023.
When entrepreneurs realize the industry has room for growth, they might consider starting a kitchen cabinet business. Before starting one on your own, you should research whether or not such a business is a good investment. Weighing the pros and cons can help determine if you should found a new company or buy an established franchise instead.
Is a kitchen cabinet business a good investment? How profitable are they?
Depending on several variables, kitchen cabinet businesses can be quite profitable. The first factor is the area a company serves. If a business starts where there isn't a demand for them, they'll be wasting time and money on overhead, advertising, and other expenses. Since all homes have kitchens, it's likely they will need to be updated over the years.
The second factor affecting how profitable a business can be is how competitive the industry is within that region. How many companies compete for the same local market share can decide whether a business can be profitable by standing out from the pack.
You should also consider the materials used to create the cabinets. Mediocre materials might yield a higher profit margin in the short term but will yield a substandard product that can tarnish a business's reputation. Investing in higher quality materials leads to a better product but may drive up the price for customers, potentially shrinking your profit margins.
Most kitchen cabinet businesses can incur start-up costs of anywhere between $2,000 and $10,000. These costs may differ depending on where they're located. Each state has different taxes and administrative fees, and it costs more money to operate a business in some states than others.
Profit margins for cabinet businesses can rest anywhere between 25% and 50%. Weighing the factors that determine a company's profitability can help you decide whether it's worth starting a kitchen cabinet business or buying a franchise.
What are the pros and cons of starting a kitchen cabinet business? Is it better to join a franchise?
Some pros of starting a kitchen cabinet business include:
Being your own boss:

The freedom that comes with only answering to yourself and your customers can be worth the costs of running your own business. Doing things your way can give you the results you require.

Work when you want:

Business owners can set their own schedules. Still, they typically work as much as they can to help ensure their company's success.

Living your dreams:

Business owners with a true entrepreneurial spirit want to improve their industry, not just their own company. Operating a business your way can help achieve that goal.
Professional freedom, however, can come at a price. Some cons of starting a kitchen cabinet business on your own can include:
Knowing where to start:

If you don't have experience running your own business, it can be difficult to know what advice to follow when you're just getting off the ground.

Marketing:

Advertising is a must for any company. No one will buy a product or service if they don't know it exists. Marketing can be a challenge to create and deploy and represents an additional expense many start-ups can't afford at first.

Knowing how to do the job:

A person who wants to start a kitchen cabinet business should know something about cabinetry and operating a business. Learning as you go might not be the best plan if you don't have quality resources to help you avoid mistakes.
Buying a franchise, like Kitchen Tune-Up, can be a better option than starting a business from scratch. The advantages of working within a franchise include, but aren't limited to:
Benefiting from an established company's name:

Franchise owners can use the company's brand recognition to further their business goals.

Marketing:

Often, franchising companies already have marketing strategies in place. This can help owners save money in advertising by avoiding costly mistakes.

Training: A franchising company like Kitchen Tune-Up offers a comprehensive training program that teaches franchisees how to run their franchise successfully.

Enjoying access to several levels of support:

Franchise owners can gain access to operational and marketing support whenever they need help. In addition, they can enjoy ongoing training to keep them updated with the latest trends in the industry.
Working with a franchising service like Kitchen Tune-Up can help eliminate some of the negative and risky aspects of operating a kitchen cabinet business. Buying a franchise can be an effective way to gain experience in the industry and reduce the lag between investment and profitability. Choosing to buy a Kitchen Tune-Up franchise provides you with training and support options that can make your kitchen cabinet business more profitable much sooner. Learn more about the Kitchen Tune-Up franchise opportunity by filling out this form.