Why a Cabinet Refacing Franchise Is a Lucrative Investment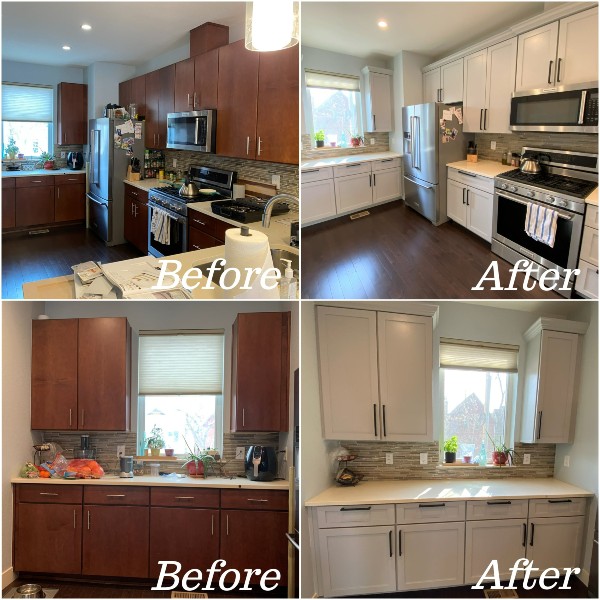 Many homeowners consider the kitchen the central focal point of their home. Kitchen cabinets make cooking much more pleasant can set the tone for the whole room. When they're well-styled and in good shape, kitchen cabinets can significantly increase a home's value. Many homeowners consider kitchen cabinets an essential part of their home decor. According to a recent study, the kitchen cabinetry market in the United States hit $25.5 billion in 2020.
Homeowners who want to improve the decor of their kitchen or increase their home's selling power may find cabinet refacing significantly less expensive than installing new cabinets altogether. Cabinet refacing can be the best option for enhancing a room by replacing the existing cabinetry's veneer, doors, and drawers. Cabinet refacing projects can cost between $4,000 to $10,000, but the final price depends on the materials used and the size of the kitchen.
Entrepreneurs who want to buy a franchise, but don't know which one to choose, should consider a kitchen cabinet refacing franchise. The demand for cabinets provides an excellent opportunity to make and maintain strong profits even during uncertain economic times. Learning how a kitchen cabinet refacing franchise can be a profitable investment might be all it takes to get started.
Are Cabinet Refacing Franchises Profitable?
If you operate out of the right area and meet the initial investment requirements, you can expect a good profit margin. Buying a kitchen cabinet refacing franchise from a company like Kitchen Tune-Up can increase the chances of gaining solid revenue quickly. Buying into an established franchise system offers several benefits:
An established company's name:

Accepted brand recognition can go a long way in earning customer trust as a new business.

A pre-existing marketing strategy:

Franchise owners won't have to spend extra money on advertising or make guesses in the dark.

Extensive training:

Franchise owners can learn how to manage their franchises through ongoing training options.

Support:

Operational and marketing support help our franchise owners stay on track and make the most of their opportunities.
An entrepreneur starting their own cabinet refacing business won't have access to the same advantages as Kitchen Tune-Up franchisees. They won't have a brand name to kickstart their business, and national advertising campaigns to promote their brand. Plus, unless the business owner knows the industry quite well, they may not have the expertise to run the business successfully. These factors are part of why franchises are often more profitable than businesses started from the ground up.
What Are the Start-Up Costs, Fees, Insurance, and so on?
Every business, franchise and otherwise, has start-up costs and fees that need to be factored into your decision. Average start-up costs for all businesses range anywhere from $100,000 to $300,000. The total investment depends on the industry and type of franchise.
Kitchen Tune-Up offers an initial investment fee is $72,000, and we require working capital of $26,480. This investment fee gives franchisees an all-inclusive start-up package that includes, but isn't limited to:
A protected territory.

Printed marketing materials.

Initial training.

Employee hiring and onboarding software.

Initial product inventory for wood restoration plus tools for refacing.

National buying power for materials.
Franchise insurance costs vary by area. Franchise owners can consider several coverage options for their business:
Errors and omissions insurance.

Management liability insurance.

Employment practices liability insurance.
Franchise owners might also be responsible for any applicable taxes, but these also depend on where you live and other factors that are specific to particular situations.
A potential franchise owner can learn more about all of the costs of buying a franchise when they talk to the leadership team and a franchise consultant to learn more. Talking to an expert can be not only be educational, but provide the final push towards financial success.
A Cabinet Refacing Franchise Can Be As Profitable As You Make It
In the end, the profitability of a cabinet refacing franchise is up to you, the entrepreneur. If you have the drive to succeed, you'll weigh all of your options carefully before making a decision.
Do you want to start your own business and build it up from nothing? With that option, you'll need to deal with all the start-up costs yourself, plus spend the time and effort it takes to create a brand. When you take a chance like that on your own, you may ultimately fail and be personally responsible for the financial losses.
On the other hand, you can buy a franchise from an established company like Kitchen Tune-Up. This choice reduces your start-up costs and gives you a more solid foundation from which to grow and make a profit. It's much easier to become successful when an industry leader backs you up with a tried-and-true blueprint for success.
Your level of success depends on how hard you work and what you hope to achieve. Contact Kitchen Tune-Up if you're interested in remodeling your expectations!