Why Our Multiple Price Points Offer Great Value to Your Franchise
At Kitchen Tune-Up we are continually assessing the services we provide to make sure they are of fair value, excellent quality, and superior customer service. We've discovered over the years that one of the best ways to appeal to a broader customer base is to offer different services at different price points. Homeowners like choices and having available options for them to choose from will attract a more diverse group of customers.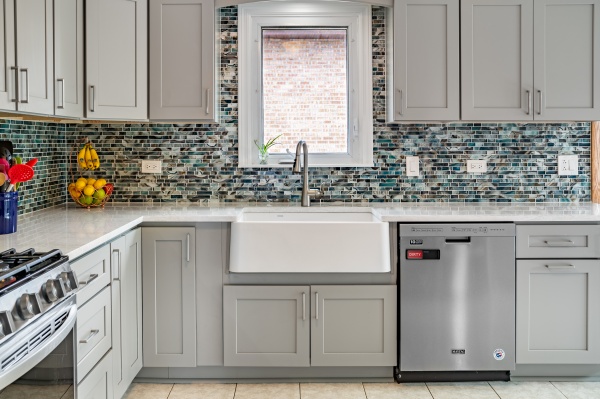 Research has shown that when customers are presented with different price points they are more likely to purchase from the retailer. The option to choose services based on price point empowers them and encourages them to remain loyal customers. At Kitchen Tune-Up we offer a variety of different services at different price points, including:
1 Day Tune-Up Our exclusive process brings life back to worn and tired cabinets and can be completed in only one workday. This is an excellent option for customers who want a new look for their cabinets without changing the color or style.
Cabinet painting White, off-white, and gray kitchens continue to be hugely popular. It's common for homeowners to like their cabinet door style, but not the golden oak or dark color, and want to brighten up their space. If the cabinets are solid and doors are in good condition, they may be a candidate for painting. Similar to painting your walls, painted cabinets are prone to nicks, dings, and scratches from everyday use. If your homeowner wants to change their cabinet color and for it to last 2-5 years (depending on use), this could be a great option.
Cabinet redooring The cabinet boxes in many homes are in excellent condition even if the doors have seen better days. We offer clients a redooring option that simply replaces the doors with new ones in the same or complementary color while leaving the cabinet boxes in place.
Cabinet refacing Clients can get a new color and style for their kitchen, without the mess or expense of a complete remodel. For example, an oak kitchen can be transformed into a white shaker – with no demolition. Like with redooring, all new doors and drawer fronts are installed, custom-made to fit the existing cabinets. In addition, all of the face frames and exposed ends are covered in matching veneer. Most projects are complete in only a few days. The existing flooring, backsplash, and countertops remain undisturbed.
Home organization Clients looking to organize their homes can add roll-out trays, recycling centers, tray dividers, spice racks, cutlery dividers, and more. These options can be included with any of our services. Customized organization systems can also be installed as a stand-alone service and we have cabinetry and organizers available for pantries, home offices, garages, closets, and more.
Kitchen remodeling Kitchen Tune-Up offers full kitchen remodeling services. A full remodel involves a new design of the space and allows customers to customize the design to fit their personal style and their family's needs.
If you would like to learn more about owning your own Kitchen Tune-Up franchise contact us today. We are committed to helping all of our franchise family members realize their small business dreams.