"Kitchen Tune-Up People Are Eager to Face New Challenges"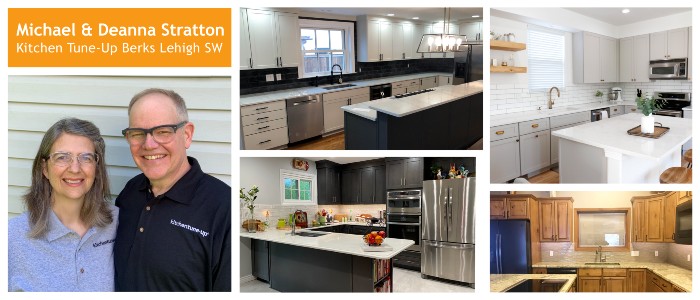 Michael and Deanna Stratton, owners of Kitchen Tune-Up Berks Lehigh SW
After years of waking before dawn to start an hour-long slog to his office, Michael Stratton was ready to leave his job. "The night I said goodbye to the corporate world, I set the alarm clock for something different. I turned to my wife and said, 'I am never getting up at 4:30 again!'" he recalled.
Michael's delight was about much more than just the chance to grab some extra shuteye. His transformation from employee to Kitchen Tune-Up business owner brought him fresh satisfaction and contentment.
"The flexibility of your schedule and being your own boss is a credit in the bank of your health and well-being that is too large to enumerate," he says.
Kitchen Tune-Up's Positive Culture
Michael's path to his franchise in Reading, PA, was a long one. After graduating from the U.S. Air Force Academy, he wed his high school sweetheart Deanna, and they spent nine years as an Air Force family. Michael then worked for a national truck leasing company for 22 years.
In that job, he held varying roles in operations, sales, and process consulting. But the career was taking a toll on him. The problem wasn't just the long commute. Michael felt he wasn't getting a worthwhile return on the daily, personal investment of his own time and effort. "I was burning out mentally, physically, and emotionally," he recalls.
He began searching for a franchise opportunity, to take back control of his working life. As he learned about franchising, "Kitchen Tune-Up really distinguished themselves by their positive culture and can-do attitude," Michael says. "It was very appealing."
What one aspect of Kitchen Tune-Up most influenced Michael to become a Tunie? "People, people, people! Kitchen Tune-Up people are eager to face new challenges, are genuine, and are helpful every step of the way."
Kitchen Tune-Up has also brought Michael the job satisfaction he had missed. "I have learned that I am better than I was told in my last job," he says. "I am looking forward to continuing to grow, develop, and learn this magnificent business I have bought into. I am over-the-moon thrilled with where I am at, and where I am going."
For the last few years of his old career, he worked with "miserable people" every day and it affected him negatively, he notes. Joining Kitchen Tune-Up turned him around. "Already my family is noticing the change in me—that's important!" he says.
As a new owner, he trained at home using new online training Kitchen Tune-Up designed for these times of restricted travel. He lost power at his house during training and had to scramble to catch up, yet he still gives virtual training high marks as comprehensive and useful. Michael also notes that he detected a strong culture behind the training: "This company has a family feel to it."
Michael says a benefit of training at home was that he could keep up with what he calls "the gravitational pull of family responsibilities." He jokingly pictures how, if he'd been at Kitchen Tune-Up headquarters for training, he might have lost sleep if the family called with a problem he couldn't address from so far away. "The result would have been me falling asleep in class, at the home office. I'm glad that didn't happen!"
Kitchens: "Where Families Come Together"
The idea of helping customers make dream kitchens into realities reflects Michael's own enthusiastic attachment to his family's kitchen. "In our house, we conduct our lives in our kitchen," he says. "It's a place where we feel most comfortable. We are proud of the space and when we entertain, all of our friends gravitate to our kitchen rather than other rooms in the house—we hardly use our formal living room!"
He wants others to have that same positive experience. A kitchen "should be a place where families come together, share the good news, and in essence, unify at a place that is comfortable, warm, and inspiring," Michael says.
For Michael and Deanna, an Easter Seals Occupational Therapist who works with young children, owning a franchise also means they can continue being involved in their community and seeing more of their family.
The Strattons, both natives of a small farming community near Buffalo, NY, have lived all over, like many a military family. After time in Ohio and New Hampshire, they put down deep roots in Reading, PA, 23 years ago.
"We have seven amazing children, six daughters and one son, and we are expecting our first grandchild," says Michael. With the kids living in the area, Michael and Deanna hope to spend more time with them.
Supporting their church and community organizations is important to the Strattons. Their mission as Kitchen Tune-Up owners is to have a positive impact not only on people's homes but also on their Kitchen Tune-Up workplace and the community. They want their employees to deliver "honesty, effort, and results" to customers.
To learn more about Michael or Kitchen Tune-Up Berks Lehigh SW, visit their website and Facebook page.
Curious about how other Kitchen Tune-Up franchisees started their journey? Check out our blogs on AJ Taylor, Peter Mahoney, Toni Amenrud or Julio Penaranda.