5 Year Franchise Owner: Success Comes From Choosing a Brand You Can Trust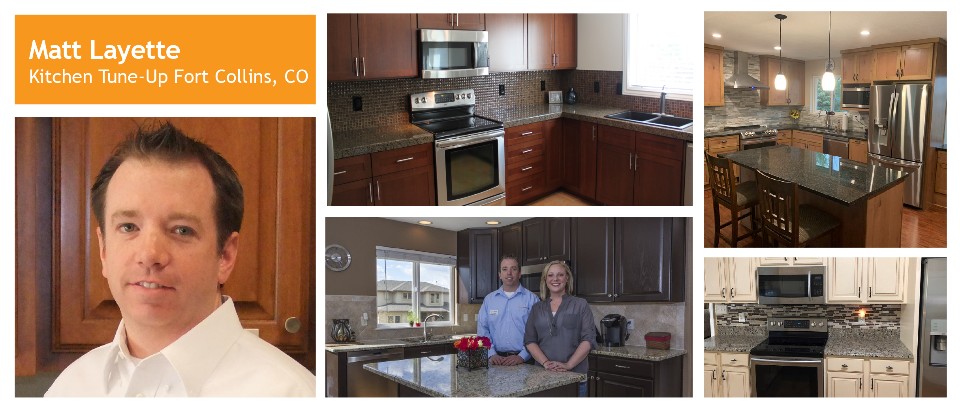 Matt Layette has five years of franchise ownership under his belt after taking the leap in 2014 and leaving behind a career of working for a large telecommunications company. Matt was tired of working for somebody else and was ready to be his own boss for four main reasons: the ability to hire and manage his own employees, freedom to set his own terms, working for a brand he could trust, and support from a Home Office team to help him navigate the unknown waters. Kitchen Tune-Up Fort Collins, Colorado is our featured franchise this week, as Matt and his team celebrate five successful years of bringing 1-5 day kitchen updates to the Fort Collins community.
What was your career before becoming a Tunie?
My career was in Field Operations for a major telecommunications company. I also had many years of retail experience in the Home Improvement industry
What is your favorite part of owning your own business?
My favorite part is the ability to hire and manage top talent and deliver a great product to our customers. I enjoy the sense of control that I have around the customer experience.
What comes to mind as your most memorable kitchen update?
We've had many customers that we've enjoyed working with and we enjoy all of them for different reasons. However, we really enjoy those customers that allow us to come into their homes and push the envelope on their design to give a WOW factor!
Any advice for someone thinking about making the leap and buying their own franchise?
Yes, be prepared for a roller coaster. You will have great months and slower months. Don't skimp on the customer experience. Get your name out and market the business. Do the right thing and it will work out.
Do you have a favorite cabinet door style?
In Colorado, we love the Tescott style. It is super rustic and fits perfectly into the Colorado designs we do.
What was the biggest motivator to why you bought your own franchise?
Diversification. At any given point, a corporation can downsize or change roles and I wanted the freedom to set my own terms. Plus, we chose a brand we knew not only in the community, but also us as a family, could trust.
What have you found to be the biggest benefit to franchise ownership?
The support you get at the corporate office is extremely flexible. You can use as much or as little of the corporate support team as you want. Some weeks you need no support and some weeks you need more. It's up to you.
Tell us about your family!
My wife, Tara, and I are proud parents of two boys. They occupy a lot of time, but it's so worth it! The oldest is a big soccer player and we are finding ourselves traveling all over the state going to soccer games. The youngest is following in his brother's footsteps and starting to get involved in sports as well. On many Friday or Saturday winter nights, you will find us at Colorado Eagles games. I also graduated with an MBA at Colorado State so…Go Rams!
What organizations do you belong to?
We are heavily involved in our church since both our kids go to school there. We are also involved in several groups including the NOCO Apartment Association.
Why do you enjoy being a kitchen remodeler?
We have seen some kitchens that needed help…lots of help. We enjoy all the before and after pictures to show the drastic improvements in many of the kitchens we touch. We love helping with everything from a Tune-Up to custom cabinets. The crazier the request, the more we enjoy it!
You can find Matt on Facebook or contact him here.

If you are interested in owning your own Kitchen Tune-Up Franchise, you can fill out an application here or contact us today.