A Day in the Life - From Employee to Owner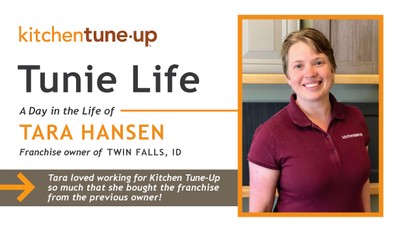 For Tara Hansen, work used to mean delivering newspapers on a graveyard shift schedule that kept her from her family and friends. But today, she wakes up every morning (at a normal time) and heads into a job she loves.
Tara owns Kitchen Tune-Up Twin Falls, Idaho, a mantle she took up after some time spent working for the previous owner.
"I worked for the previous owner and found out that I loved Kitchen Tune-Up so much that I bought it from them!"
So what does a day in the life of a franchise owner really look like?
For Tara and her family, it's all about helping people navigate the transition from dreaming about a new kitchen to finally seeing it become a reality. In fact, that's what drew her to Kitchen Tune-Up in the first place! What started as an agreement to run the Kitchen Tune-Up booth at a local fair has blossomed into a fully-formed career, complete with all the trimmings.
"I love helping the customer create a space that they love the look of and that is optimized for the way they use it."
Tara got her feet wet accompanying the previous owner of the Twin Falls Kitchen Tune-Up on sales calls. In no time at all, she realized that owning her own franchise was in her future. The ability to control her own schedule and money was something that previous jobs had denied her, and Kitchen Tune-Up was the perfect opportunity to fix that.
After just one year of owning her own Kitchen Tune-Up franchise, Tara currently oversees three remodeling crews, but she has her sights set on managing at least a dozen. And with the help of her husband and seven eager children, there's no reason the next year won't see her well on her way to that goal.
Each day spent working at her own Kitchen Tune-Up location is a different experience. Every job presents unique opportunities to grow and challenges to overcome. Tara's customers know that her enthusiasm and top-tier management will see them through to the kitchen of their dreams.
Interested in more Day in the Life articles? Visit ktufranchise.com to read more and see what it's like to be a Kitchen Tune-Up Developer, own a retail space, or work with your entire family!