Bringing A Customer-Focused Culture to Northern New Jersey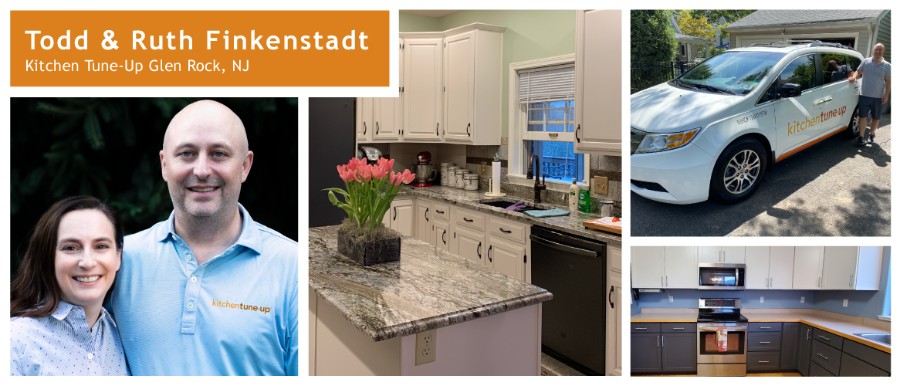 Todd and Ruth Finkenstadt, owners of Kitchen Tune-Up Glen Rock, NJ
Todd Finkenstadt was seeking a second career that was "more interesting and exciting" after 30 years in sales and marketing for the dental industry.
Home remodeling seemed like a natural progression for Todd: He comes from a family of interior designers and grew up "in the trade." As a teenager, he sometimes accompanied his mother to showrooms and clients' homes—a great background for a Kitchen Tune-Up owner.
Together with his wife Ruth, Todd recently opened Kitchen Tune-Up Glen Rock, NJ. They say they're looking for a business they can grow together, one which will prove satisfying for years to come.
With home renovations booming overall, Todd notes that market conditions right now favor businesses like Kitchen Tune-Up. He adds that the company has something extra— "a customer-focused, work-friendly culture not seen in the home improvement industry."
Franchising held a special appeal for them as newcomers, Ruth says. Franchising provides "a supportive backbone for people like ourselves who have not owned a business before, Kitchen Tune-Up in particular, because of the organizational and professional strength of the Home Office."
Hands-On Training at Home
Kitchen Tune-Up's Home Office has had to meet the unique challenges of training new franchise owners during a global pandemic that has curtailed most travel. Kitchen Tune-Up turned to virtual training. Offered the chance to postpone training until they could come to Kitchen Tune-Up headquarters in Aberdeen, S.D., in person, the couple chose instead to train virtually at home, so they could launch their business sooner.
Potential Kitchen Tune-Up owners shouldn't be daunted by the idea of virtual training, Ruth says: "I think from a learning perspective, the difference between virtual and in-person is minimal."
The training includes samples that Kitchen Tune-Up ships to franchisees so they can get hands-on experience with the products they'll be recommending for customers' kitchens. "One benefit of being virtual for these sessions was having access to all of our personal products, and being forced to sort through and organize the kit to understand what had been sent to us," Ruth says.
The Finkenstadts found virtual training to be "focused, intense and extremely thorough," Ruth adds. "Nine days is long, but it is hard to imagine how it can be done in any less time than this. Every session was incredibly necessary and useful. The presenters were all fantastic with an in-depth knowledge of the content and the business overall. The technology was seamless."
Kitchen Tune-Up Glen Rock, NJ serves a swath of northern New Jersey communities. To learn more about Todd and Ruth, visit their website and Facebook page.