Building a Family Legacy in Tinley Park, IL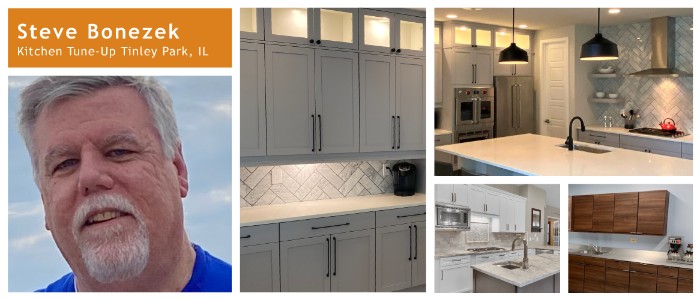 Steve Bonezek, owner of Kitchen Tune-Up Tinley Park, IL
A lifelong interest in remodeling and construction fueled Steve Bonezek's decision to become a Kitchen Tune-Up franchisee. Bonezek is the new owner of Kitchen Tune-Up Tinley Park, IL.
"I've had a passion for construction and home remodeling since I was a kid and my dad put an addition on our house and did most of the work himself," Bonezek says. "So I knew I wanted to do something in the home improvement area."
Bonezek joins Kitchen Tune-Up after 30 years as a civil engineer and construction manager. After working as a Navy Civil Engineer Corps officer, he spent many years in the private sector, managing commercial construction as a general contractor.
Focused on Customers
Bonezek's own experiences getting work done on his home have made him especially interested in giving his own Kitchen Tune-Up customers the best possible service.
"I've always been frustrated when I had to hire a contractor to do work at my house and couldn't get calls returned or have them show up when scheduled," he says. "I really loved the Kitchen Tune-Up Trustpoints and their customer focus, and felt it was the type of service I'd like to bring to our community."

While Bonezek came to the company with knowledge of contracting under his belt, he had a steeper learning curve when it came to marketing. "I had no idea how much went into [marketing], and that it's critical to your success." He credits Kitchen Tune-Up's support and training with making marketing, and "all that goes into starting and running a business," easier than he thought it would be.
Anyone looking for a great business opportunity should consider Kitchen Tune-Up, Bonezek adds. "The sales and onboarding process is first class and really prepares you for opening and operating a successful business."
"Proven Processes"
The No. 1 benefit of choosing franchise ownership, over other types of business, is that franchising uses already proven processes and has a support system in place, Bonezek says.
By taking on a new career as a Tunie, Bonezek is hoping to build something he can pass on to his kids. Family is important to him. He and his wife Carolyn, married for 38 years, have three children and four grandchildren, and Bonezek says, "We've graduated from enjoying following our kids' sports to following the grandkids'." He'd like to be out on the links golfing whenever he can. And when he's not with the grandkids or traveling, he's doing projects around his house.
To learn more about Steve and Kitchen Tune-Up Tinley Park, IL visit their website and Facebook page.