Carrying on the Kitchen Tune-Up Tradition in Virginia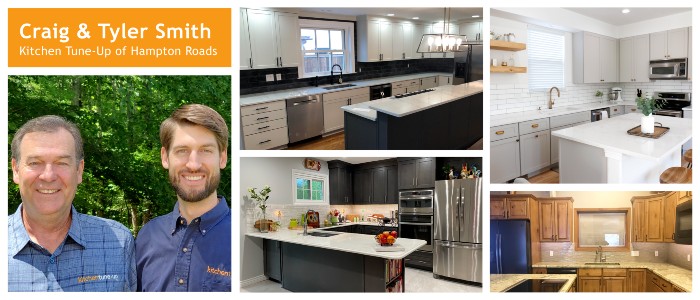 Craig Smith, owner of Kitchen Tune-Up of Hampton Roads and his son, Tyler, who helps run the business.
In historic Williamsburg, VA, residents can be pretty house-proud—after all, they live in one of early America's most treasured areas, and they love their homes. Kitchen Tune-Up already has years of experience making kitchens here more beautiful and functional. With new owner Craig Smith taking over Kitchen Tune-Up of Hampton Roads, more homeowners are going to have the chance to see how special their kitchens can be.
Before joining Kitchen Tune-Up this year, Craig was the CEO of a transportation company and a managing director at Federal Express. He took on responsibilities and made money for other people for years, and wanted to create an opportunity to do the same for his own family, Craig says.
When Kitchen Tune-Up owner Mark Levy was ready to retire, the timing was right for Craig to step in and buy Mark's business. The franchise is a family affair—Craig says he's excited to work with his son Tyler, who relocated to the area to partner with his dad. Craig's wife of 38 years, Shelley, is on the team too, handling orders and administrative tasks while Tyler and Craig head out on sales calls and customer visits.
Because the Smiths bought an existing franchise, they gained unique advantages. They shadowed Mark to learn how to make sales calls and how to shepherd projects from start to finish. They took over Mark's client list, employees, and vehicles right away. The franchise already had 15 years of established presence in the area, which includes the huge Newport News and Hampton Roads region. And not having to start from scratch meant the Smiths jumped into sales, booking seven projects in the first 15 days they owned their business.
Kitchen Tune-Up's proven business model and supportive company culture have helped, too, Craig says.
"Everyone I've come in contact with at the Home Office are great people," Craig notes. "They care about you and want you to succeed. They treat you like family and have your best interest at heart. The systems and processes are all ready to go and can then be tailored to fit the needs of your specific market."
Time for Work, Time for Play
By building their own business, Craig, Shelley, and Tyler are continuing an even older family tradition. "My parents ran their own business successfully for over 42 years and my dad always told me to treat others like I want to be treated and I would be fine," Craig says. "Treating people like I want to be treated is most important to me."
The father of three (and grandfather of three) says the biggest benefit of owning his own business is that it "allows us to create a time for work and a time for play." Being in business alongside his son and wife means the family makes decisions together and learns the ropes together.
What does Craig do when he's not working? "My hobbies are work—work and work," he jokes. "And spending time with family, doing projects around their homes that they want to get done."
To see what Tyler and Craig's team is working on now, visit their Project Gallery here.