Choosing a Proven Business Model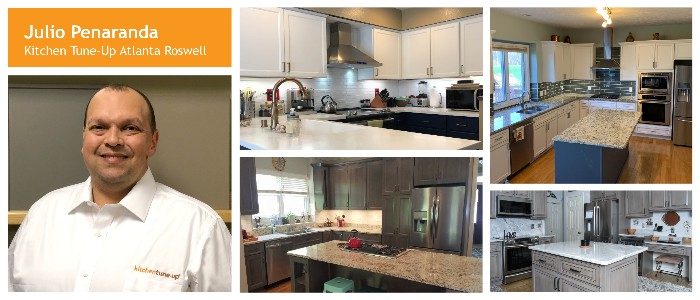 Julio Penaranda, owner of Kitchen Tune-Up Atlanta Roswell-Marietta
Julio Penaranda wanted to run his own business—after all, he'd spent 20 years supporting others as they achieved their business goals. "I was tired of helping other people become successful entrepreneurs and finally took the plunge" into hunting for his own venture, he recalls.
The idea of a franchise held strong appeal. "I knew I wanted to buy into a franchise system, as franchises have a higher percentage of surviving the first 90 days," Julio says. The biggest benefit of franchise ownership, he notes, is the "proven track record and established system" it offers.
As the owner of Kitchen Tune-Up Atlanta Roswell-Marietta, Julio has found not only the proven business model he wanted but also a bonus: A positive company that has his back.
"I was drawn to Kitchen Tune-Up because of the family atmosphere and fantastic attitudes of everyone I came in contact with at the home office," he says. "This atmosphere was not experienced in the other franchises I was investigating."
Changing Careers Successfully
Julio comes to Kitchen Tune-Up from a career in commercial property management. He finds he can apply that experience readily at Kitchen Tune-Up. "My previous career's construction management and team management skills gave me more confidence that being a 'Tunie' was the right fit for me," Julio says.
Changing careers to take on a franchise can seem daunting, but Julio notes that with the right support, new owners can hit the ground running. Kitchen Tune-Up's training provided everything he needed to start a successful franchise, he says.
Julio offers this advice to potential Tunies: "The amount of data and information given to you may, at times, cause you to feel overwhelmed, but rest assured that you will handle it and will come out much better prepared to run your franchise."
Creating Work-Life Balance
Serving customers in Roswell, Marietta and the greater Atlanta area, Julio aims to give homeowners a stress-free experience making their dream kitchens—or bathrooms, closets, or garages—into realities. At work, he wants to help his team members balance their professional and personal lives in a safe, fun, and supportive workplace. To see how Julio and his team are transforming homes, visit their Project Gallery here.
When he's not working, Julio is usually on the road or at the soccer field. His two sons both play travel soccer and their games keep him on the go. If he's home, you'll find Julio grilling for family and friends.
To learn more about Julio or to contact Kitchen Tune-Up Atlanta Roswell-Marietta, feel free to visit his website, Facebook page or give him a call at 770-377-1916.