Continuing the Kitchen Tune-Up Legacy in Downers Grove, Illinois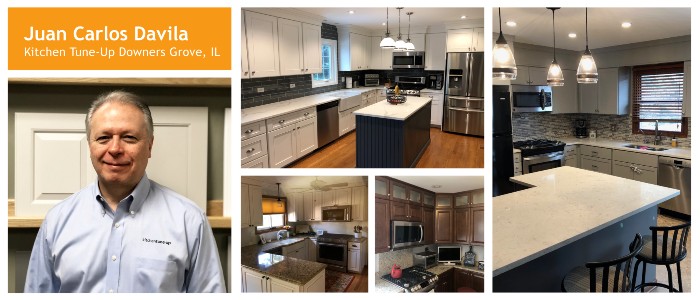 JC Davila, owner of Kitchen Tune-Up Downers Grove, IL. JC bought the franchise from Marty Ceranec in 2020 after 25 years in business.
JC Davila has recently joined the Kitchen Tune-Up family with his location in Downers Grove, Illinois. Open and already servicing the area, JC's Kitchen Tune-Up has started 2020 strong and only looks to be growing thanks to JC's dedicated team and business savvy.
But JC's Kitchen Tune-Up story actually begins a quarter-century ago, when Kitchen Tune-Up Downers Grove originally opened.
Why I bought an existing franchise
Franchise resale is an option we don't talk about as much because it's more common in a fast-growing industry that people start their own franchise. However, when existing franchisees retire or move, resale is a great way to make sure the existing franchise keeps going strong.
Downers Grove has had a Kitchen Tune-Up for 25 years, which is an impressive time span! But when it was time for the franchise's previous owner, Marty Ceranec, to move on and retire in style, the last thing anyone wanted was to see all those years of hard work and community relationship-building disappear.
That's when Marty made the decision to pass the baton over to JC, who was eager to take this opportunity to ditch the corporate politics of his previous consulting positions and start growing his own business instead.
"The opportunity to grow the business is bigger than I thought"
Since taking over the Downers Grove Kitchen Tune-up, JC has seen his business grow even beyond his initial expectations. With the support of the rest of the Kitchen Tune-Up family, he's set to outpace even his predecessor.
"I just love to see people touring a home and going 'Wow!!' when they see a beautiful kitchen"
Kitchen Tune-Up was the right fit for JC. Not only was he looking for the chance to take control of his own future and put his business degree to good work, but he's always had an eye for design and loves nothing more than seeing a remodeling project come together. Watching the old give way to the new and seeing how it transforms his clients' homes is JC's favorite part of the job.
Starting your own Kitchen Tune-Up journey
Curious about life as a KTU franchise owner? Looking to see how Kitchen Tune-Up can transform your kitchen or bathroom? Visit kitchentuneup.com to learn more about the unique opportunities this family of renovation teams has to offer.
You can also find out more about what JC and his team have been up to in Downers Grove by visiting their website or calling (630) 985-0858.