Day in the Life - Dedicated to Service

Kat Walden is no stranger to the ins and outs of running a franchise. She got her start as a Sears Hometown owner but jumped at the chance to run Kitchen Tune-Up Pueblo, CO.
Kat is lucky enough to have the benefit of being near another Kitchen Tune-Up location, so the two locations can collaborate, lend support, and even work Home Shows together. This collaboration gives her the ability to provide the best service possible.
An average day for Kat begins and ends on her 35-acre farm where she breeds award-winning golden retrievers and cares for farm animals ranging from alpacas to goats. Kat brings the same dedication she has for her farm into Kitchen Tune-Up (and if you're lucky, you might see a golden retriever running around, too). While she's on the clock for Kitchen Tune-Up, Kat is busy fostering relationships with community members, local businesses, and colleagues.
Kat is currently working on expanding her location's resources by converting her old store into a retail space and warehouse for her customers and crew to utilize.
Kat is with her clients from step one. She never misses the first meeting. For Kat, the satisfaction of her job comes in guiding a project along with a customer's wishes until everything culminates in the remodel of their dreams. Kat's team handles projects both big and small with the same dedication and enthusiasm.
It's all about problem-solving. Customers come to Kat and her team with a vision for their new kitchen. That vision is what motivates Kat to see each project's goal become a reality.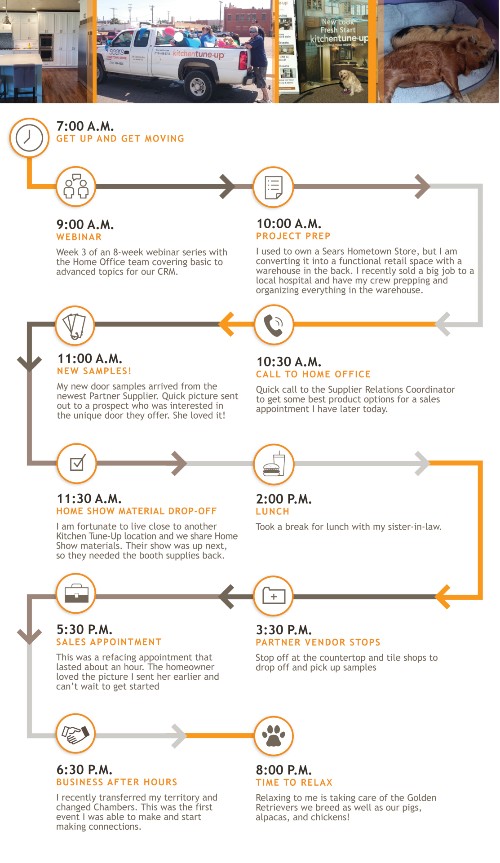 Visit Kitchen Tune-Up Pueblo, CO on Facebook or check out their website to see what Kat's customers have to say about her team's extraordinary service!
Kitchen Tune-Up has other dedicated franchise owners, like Susan Johnson, all across the country. Visit ktufranchise.com to learn more about the brand and what it takes to be a franchisee.