Day in the Life - Investing in Longevity

Bruce and Lori Morgan know their way around a business. They've been running Kitchen Tune-Up Colorado Springs since 1994!
The decision to leave the real estate and banking worlds behind was a simple one for the Morgans. They wanted to put Lori's small business ownership expertise to use and found that home remodeling was the place to do it.
"We realized everyone has wood in their home or business and would want it to look good, especially in the kitchen since it is the heart of the home!"
And the Morgans truly understand their customers' desires for a kitchen that brings their home together. For them, Kitchen Tune-Up is a family business. Bruce and Lori have been working with their children for almost as long as they've owned their Kitchen Tune-Up. All five of their children have played various roles in the business. Their son, Chad, is currently their Operations and Sales Manager.
The Morgans have run their business down to a fine science, but that doesn't mean that a day in the life of a franchisee doesn't present unique challenges and opportunities to grow. Whether they're setting up a sales appointment or briefing an installation team, every project gets the same level of attention every step of the way.
Nearly a quarter decade of bettering their community one kitchen at a time has not led to stagnation. In fact, Bruce and Lori's Kitchen Tune-Up is growing and innovating faster than ever thanks to the energy their son brings to the table.
Since 2004, they have won almost a dozen local and national awards for their business. The strong foundation that Bruce and Lori have built with their company means they have the freedom to schedule the time off they deserve, knowing that their business will run smoothly thanks to their son and their good relationship with the community.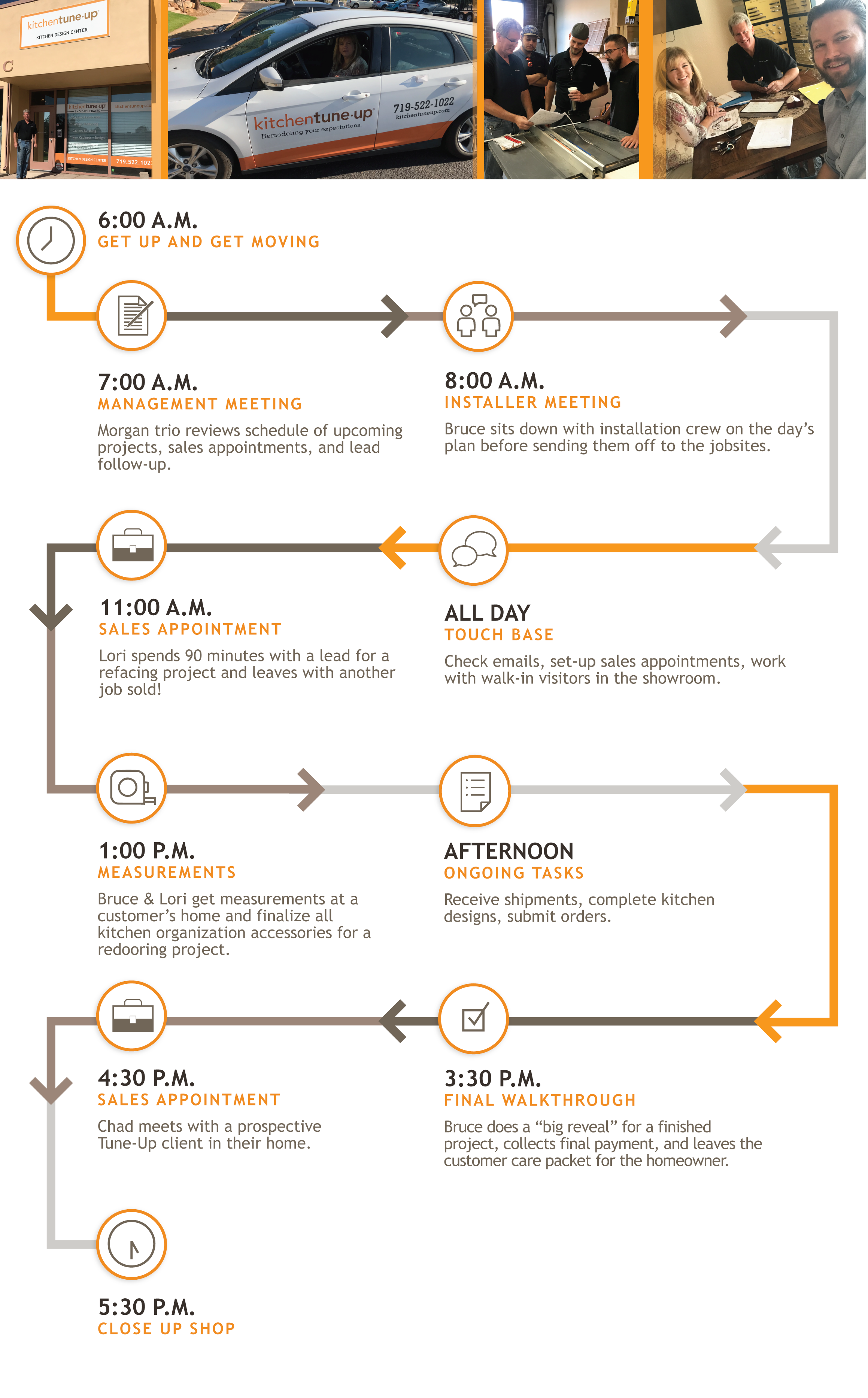 Stop by and visit our other franchise owners, like Shane Noble, to see just how unique each day as an owner really is!
Ready to finally get going on that remodeling project you've been dreaming about? Visit kitchentuneup.com to get started. Curious about how franchise life might treat you? Visit ktufranchise.com to learn more.