Day in the Life - Providing Comprehensive Service

For Susan and Charlie Johnson, running Kitchen Tune-Up Little Rock, AR is about more than just running a remodeling business, it's about seeing each job through from start to finish and providing everything their clients need each step of the way. The Johnsons know that a kitchen remodel can have a lot of moving parts, and that's why they go out of their way to prepare for everything their clients might need.
Susan and Charlie can give their clients this truly comprehensive kitchen remodeling experience because their Kitchen Tune-Up location includes retail space. This makes them part of just 30 percent of Kitchen Tune-Up franchise owners who offer this extra amenity.
Operating a retail space means there's extra work to go around, but Susan and Charlie are more than prepared. They work together to see their clients get the best experience from start to finish. While Susan manages sales appointments and showroom sales, Charlie is behind the scenes managing financial information and the installation details.
A day in the life of a franchise owner can be hectic at times, which is why Susan and Charlie always stay organized. Each day starts with a recap of any unfinished business from the previous day as well as a moment to lay out some clear goals for the next round of installation work. Susan and Charlie stay in daily communication with their team members so that each job moves along smoothly and in a timely manner.
All this dedication to work doesn't mean that Susan and Charlie skimp on their family lives. They're both incredibly active with their children and grandchildren. The Johnsons always make time for family after work, and that includes their English lab, Avie, who's even been known to make an appearance or two on the Kitchen Tune-up showroom floor!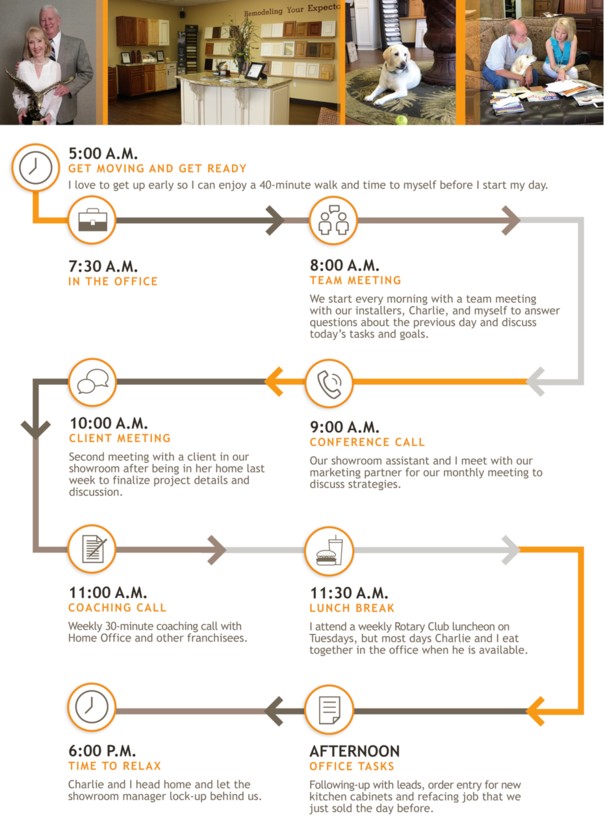 Each Kitchen Tune-Up location is owned by a uniquely qualified franchisee. To see this diverse team in action, check out our other franchise stars like Kat Walden. You can also visit ktufranchise.com to learn more about becoming a franchisee.