Day in the Life - Reconnecting with the Community

Jessica Winters is a family-oriented person with a great love for her community. Unfortunately, the 20 years she spent working in Denver's busy insurance industry kept her from connecting with others on the level she wanted.
When the opportunity presented itself, Jessica opened her own Kitchen Tune-Up franchise and almost immediately transformed it into a family business with a community focus.
Before transitioning to Kitchen Tune-Up, Jessica would spend her workdays sitting through a long commute before watching her hard work go towards building up someone else's career.
So, what does her work life look like now?
Jessica has been able to integrate her new career much more fully into her home life and her community. Every day, Jessica builds more connections with neighbors and other small businesses in Castle Rock. Her husband, Joel, has followed her lead, leaving his job in the mortgage industry to help Jessica handle the growing workload that her quality business practices have brought her. Jessica's sister has also joined their team as a painter, making it a true family business!
What time Jessica has left goes towards drawing up plans for a nearby retail location to further support her business and the needs of her community. A day in the life of a franchisee is still hectic but in all the right ways. Owning their own franchise has given Jessica and Joel the means to work for themselves. Now every day's work goes into building a legacy for their family and fostering deeper ties with their community.
"The excitement of owning your own business is truly unmatched. Building something for ourselves instead of someone else is much more satisfying."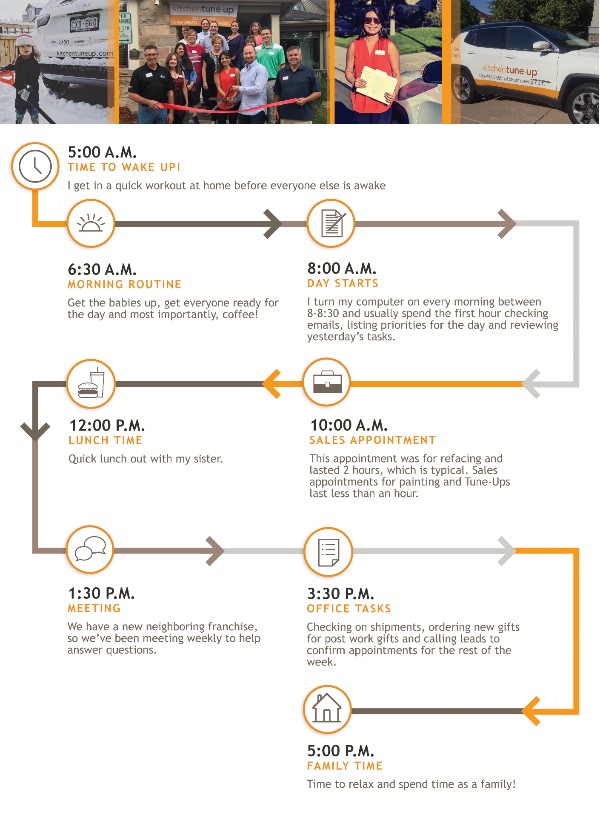 Check out our other all-star franchise owners, like Susan Johnson, to see firsthand what it's like to own a Kitchen Tune-Up!
Visit ktufranchise.com to embark on your own remodeling journey or to see what franchise ownership can offer you.