Embracing Kitchen Tune-Up's Family Values in Tucson, AZ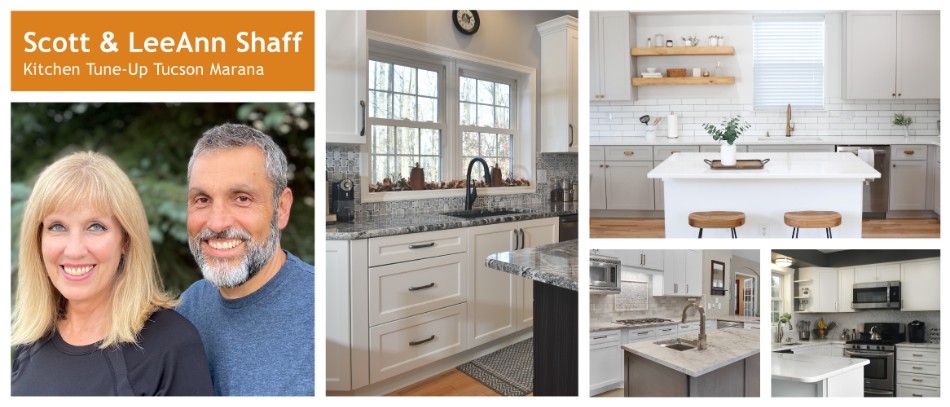 Scott and LeeAnn Shaff, owners of Kitchen Tune-Up Tucson Marana, AZ
Scott and LeeAnn Shaff are the new owners of Kitchen Tune-Up in Marana, AZ, bringing great remodeling to homeowners in the Tucson area.
Scott Shaff singled out his first company welcome call, with Kitchen Tune-Up president Heidi Morrissey, as the moment he became sold on Kitchen Tune-Up.
"Her focus on family values within the company was very refreshing," Shaff says. "Heidi's leadership and focus on 'No Tunie left behind' during the pandemic just cemented my decision. If you want to be part of a tight-knit, family-oriented group of dedicated professionals, this is the franchise for you!"
Shaff admits he initially had some doubts about Kitchen Tune-Up's virtual training. He's a hands-on learner and would prefer interacting with people in person. But his experience with virtual training at home was smooth and "made things feel almost normal," he says.
He now advises any potential Tunies who are hesitant about virtual training to give it a chance.
"Take the plunge and go virtual," Shaff says. "This is our new reality and it may help you be able to push through other things in your life that you are not so sure about. Kitchen Tune-Up is working to make things as smooth as possible and the information you get is the same as what you would receive in person."
Training at home, rather than at Kitchen Tune-Up headquarters, brought an unexpected benefit, too. "I think [when training at home] you have time to work on other things in your [Kitchen Tune-Up] business after class, to give you a jump start on the day you open," he says.
Family Values
Before buying his Kitchen Tune-Up franchise, Scott was a general supervisor for an underground gold mining operation, leading teams, supervising crews, and doing plenty of interviewing and hiring—good foundations for a franchise owner. When he wanted a change from that corporate environment, he says, he was attracted by how "Kitchen Tune-Up seemed to be a family, and that was the type of franchise I was looking for."
Scott and LeeAnn, married 23 years, have three grown sons and two granddaughters. The Shaffs love spoiling their granddaughters, traveling, and attending live sporting events.
To see what the Shaffs and their team are doing to bring quality kitchen renovations to homeowners around Tucson, visit their Facebook page here.