Featured Franchise: Kitchen Tune-Up Boise, ID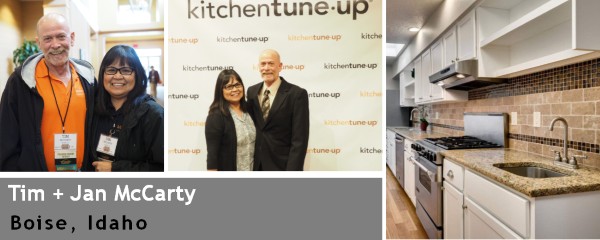 This week's feature takes us to Idaho. Tim and Jan McCarty joined our franchise family in 2001 and opened their remodeling business in Lynn Haven, Florida. They quickly started winning awards for their sales and excellent customer service and took home our top honor of Franchise of the Year in 2008. After over a decade in the Sunshine State and hundreds of happy customers, they sold their franchise and relocated to Idaho to be closer to family in 2013.
Here's more about what they love most about business ownership, and all of the great things about the Boise area. Thanks, Tim for the interview!
What were your careers before becoming Tunies?
Both were us were employed by the state of Alaska. Jan was a Budget Analyst for the Governor's Office and I was an Administrative Manager for Worker's Compensation, supervising all other supervisors throughout the state.

What is your favorite part of owning your own business?
Flexibility. There's nothing like being able to schedule your own long weekend to go on a family camp out. Independence. Taking lunch when you actually want to, and not having to ask for someone's blessing to go to the dentist or any of life's other unavoidable issues. Accountability. Proving to yourself that you can and will honor your word, whether it is making appointments on time or proving you are totally reliable to clients regarding project start times, craftsmanship expectations, and so forth. There's a special feeling when we hear, "If you call Kitchen Tune-Up, they WILL call you back." Face it, life happens and try as we may, we, nor the freight companies nor the manufacturers are perfect and there may be issues. Resolving life's little surprises is often what sets us apart!

What comes to mind as your most memorable kitchen update?
Working on a project with the homeowners hovering the entire time during the remodeling including new cabinets, countertops, backsplash, lighting, and more. And in the end, hearing the homeowner using us as their benchmark because of our team's attention to detail, getting things dead-on level, and so forth. And then giving us gifts as a sign of their appreciation for going that extra mile…not to mention the word of mouth referrals! We recently did a kitchen remodel where the customer would actually be looking right over my shoulder as we were leveling things…he was a really nice guy but it was a bit distracting at times. In the end, that couple couldn't seem to say enough nice things about us, gave us some really nice gifts (not to mention a gift certificate to a really nice steak house!) and are super proud of their new kitchen! I have no doubt we will receive other projects in the future because we really did remodel their expectations when it comes to not only craftsmanship and quality of our product, but we showed up everyday right when we said we would, and dedicated our time to their project, just like we said we would. They were super impressed with our project management and the end result.
Any advice for someone thinking about making the leap and buying their own franchise?
If you are considering getting into business for yourself…good for you! Then you are probably a self-starter and don't require directions from others to perform a job or task. Why not reward yourself and run your own business? That way you can sign your own time card, take lunch or a break as you see fit, and reward yourself with whatever vacation times fit into your business and life. Why not be the boss? The benefits and profit can be excellent…but you have to want it. If you are even considering running your own business…you probably DO want it. Be prepared to do the groundwork, follow the Kitchen Tune-Up plan, and ask for help when you have doubts or questions. We used to call the Home Office just about every day when we first started and I can tell you, we NEVER felt like we were a bother to them! Now, we don't call the Home Office as much with questions, but we do talk to other KTU owners, especially the newer ones. You can be the boss, run your own show and still have tons of support from others! What better combination could there possibly be?!

When you're not working, what is your favorite hobby or pastime?
The outdoors! Being from Alaska we had about a 13-year time span when we really missed being in the mountains, hiking around, observing wildlife, and so forth. Now we are in Idaho and we have really enjoyed getting out into the mountains and leaving our phones, emails, TV and so forth behind (for short periods of time). Also, years ago, in our pre-Kitchen Tune-Up life, we liked doing our own woodworking and minor remodeling. Oddly enough, even though we do it for a business now, we still really enjoy helping family or friends with their projects. It is very rewarding to do something to help someone else and it is all accomplished due to knowledge, talent, and expertise that has been accumulated through our work life (Kitchen Tune-Up ownership)!
What's something unique about your area?
Lots of good groceries in the Boise area. Quite a bit of semi-pro sports (baseball, basketball, hockey). We have a blast at hockey games with our kids and grandkids. There are so many fun music festivals around here. Rock, Rap, Country, you name it and there's a few festivals going on. There is so much to do that sometimes we have a hard time choosing between the mountains and staying in town but the mountains usually win.
We switch up our National Reunion location each year. What has been your favorite city to visit or most memorable Reunion so far?
I always enjoy Las Vegas. Even if you don't care for gambling, it fun to walk along the Strip and see all the architecture, the huge buildings, and just people watch. And the weather in Las Vegas is generally very tolerable.
Do you have a favorite cabinet door style?
Another of life's oddities is that we have both always liked the shaker style. However, in Florida, we must have been the odd ducks because we couldn't seem to give a shaker door away! Everyone seemed to like the raised center panel style. Moving here to the Northwest, we have really had to increase our sample offering of the shaker style because up here it is the most popular. I like that shaker doors provide a very nice, clean lines look to a home.

What was the biggest motivator to WHY you bought your own franchise?
We had to move cross country for family reasons and we were looking for something we could do to earn a good income and, at the same time, have some help getting started in our new career. We considered many, many different options and franchises in different industries. However, after visiting the Kitchen Tune-Up Home Office for a Discovery Day, all the others seemed to just pale by comparison. KTU has always been very sincere and genuine and we felt like they were such good folks that we would probably like to be a part of a system like that. Their Pre-Training and Training School was invaluable in helping us not only gain confidence, but understand just how to do what it was we were going to be doing! We had lots of questions and we were always able to get the right answers and encouragement to allow us to be successful. I really have no intent to EVER punch someone else's time clock again!
What have you found to be the biggest benefit to franchise ownership?
Man, hard to say but it's nice to have a livelihood that can be performed pretty much anywhere. This is our second location after relocating our business from Florida to Idaho. The feeling of independence is great! Answering only to yourself is a matter of great pride. The satisfaction we see in someone's eyes and body language when we are transforming the main area of their home is priceless. So many intangibles…but the freedom is, I think, what I like the best.
View photos of Tim & Jan's kitchen transformations on their website by clicking here.