Featured Franchise: Kitchen Tune-Up Knoxville, TN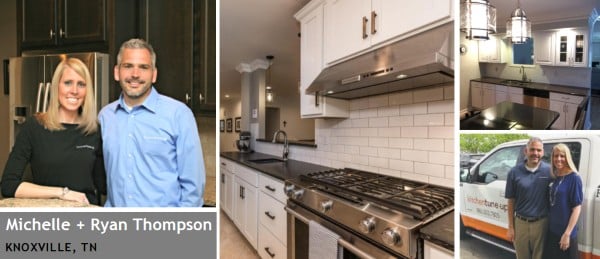 This week's feature takes us to Tennessee. Ryan and Michelle Thompson took the leap and purchased their franchise in 2016. This husband and wife team quickly started taking home system awards for their excellent work and customer service. Check out some of their recent work on Facebook at Kitchen Tune-Up Knoxville, TN. They have a young family and are busy Tuning-Up kitchens across their city, so we asked Ryan for his thoughts on business ownership.

What was your career before becoming a Tunie?
My wife Michelle and I were both in sales/marketing roles. She was in the staffing industry and I worked in college athletics.
What is your favorite part of owning your own business?
Flexibility, time with family, handling clients the way I want them to be taken care of, and not having to answer to a boss.
What comes to mind as your most memorable kitchen update?
Our favorite project was for a great lady named Irena. She had a very hideous kitchen – her words, not mine! When we finished the project, she was brought to tears. We completed a redooring and added new granite countertops and a backsplash. It was very rewarding to see how much happiness our team had brought her. It is great to help our clients rid themselves of an "ugly kitchen" and turn it into a place that they love to spend time in! It is fun when they reach out to tell us about how their neighbor or kids saw the new space and raved about it.

Any advice for someone thinking about making the leap and buying their own franchise?
If you have always wanted to own your own business, it is a scary step to take the leap, but I will not have to wonder for the rest of my life…"I wonder what it would have been like?" We are still learning and growing, but it is a decision I am very happy we made.

When you're not working, what is your favorite hobby or pastime?
Time with my family, playing soccer, and always trying new bourbons.
What's something unique about your area?
Everything in Knoxville is orange! Orange and white are the colors of the University of Tennessee and most people in this town bleed orange. In the fall, 103,000 people show up to Neyland Stadium to watch the Tennessee Volunteers play college football and it is truly a sight to behold! Go Vols! (Michelle and I are both alums.)
Do you have a favorite cabinet door style?
We love all of our RTF doors – so durable and easy to care for and so many options.

What was the biggest motivator to WHY you bought your own franchise?
Being our own bosses and attaining financial freedom.

What have you found to be the biggest benefit to franchise ownership?
Flexibility - which results in more family time than I was ever able to have in corporate America.