Featured Franchise: Kitchen Tune-Up Las Vegas, NV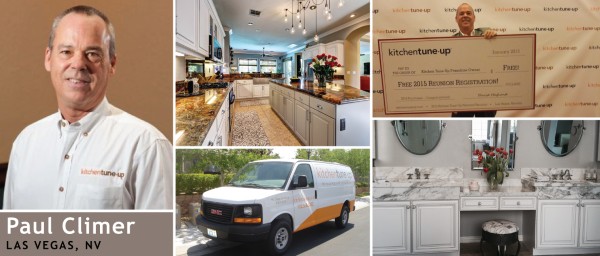 This week's featured franchise is Paul Climer, owner of Kitchen Tune-Up Las Vegas, NV. Paul and his wife, Diane relocated to Nevada in 2008 and his team has been Tuning-Up kitchens across Clark County ever since. Paul has received numerous national awards over the years for his outstanding sales and customer service, in addition to repeatedly receiving the Angie's List Super Service Award. You can find him on Facebook and his website here.

What was your career before becoming a Tunie?
I was a home builder in Michigan since 1989.

What is your favorite part of owning your own business?
When you own your own business you know how you are doing right away. If you are succeeding, it is evident. On the flip side, if you are failing you can only blame yourself.

What comes to mind as your most memorable kitchen update?
I really like contemporary-style projects. We did a kitchen recently with built-in and white doors, black trim, and red accent doors that were all in high gloss.
Any advice for someone thinking about making the leap and buying their own franchise?
Yes! Just do it or go back to working for someone else! Do not overthink it. Expect some minor failures, figure out what happened, and learn from them. Don't forget to have fun.
When you're not working, what is your favorite hobby or pastime?
Traveling, live Comedy clubs, and fishing.
What's something unique about your area?
It's LAS VEGAS - everything is unique! The locals are great. We are #VegasStrong
We switch up our National Reunion location each year. What has been your favorite city to visit or most memorable Reunion so far?
It's been great to have the meeting in Vegas a few times, but my favorite to visit was Nashville for sure. I love that town.
Do you have a favorite cabinet door style?
My favorites are flat slab doors in high gloss . . . in any color.
What was the biggest motivator to WHY you bought your own franchise?
I have loved the construction business since I was 16 years old. The Kitchen Tune-Up franchise system and our KTU services give us the ability to have 1 to 5-day jobs and make a good profit in a short amount of time.
What have you found to be the biggest benefit to franchise ownership?
Having other owners to network with is huge. The franchise model, business coaching, and support have taught me how to keep the business profit in line. As a franchisee, you're never alone and there are always opportunities to keep learning.