Featured Franchise: Kitchen Tune-Up Main Line, PA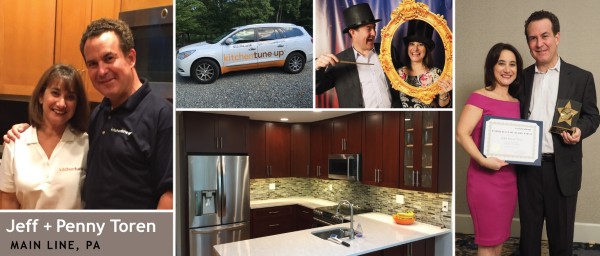 This week's feature is Jeff and Penny Toren, owners of Kitchen Tune-Up Main Line, PA. Their team has been transforming kitchens across the suburbs of Philadelphia since fall 2015, and they have recently expanded operations to include a showroom. Located at 391 Lancaster Ave in Frazer, the official grand opening and ribbon-cutting events are being held on Thursday, April 5th! If you're in the area, more details are on the Facebook event linked here.

What was your career before becoming a Tunie?
Jeff was a software sales executive for 20 plus years specializing in process automation and document imaging.

What is your favorite part of owning your own business?
Working with our clients to help them remodel the center of their home, the kitchen. I love that helping our customers make this happen as affordably and painlessly as possible, and during that, I am also making my personal dreams come true of controlling my family's future.

What comes to mind as your most memorable kitchen update?
We have had numerous clients that were so enjoyable to work with, that we became friends. One was so fun, that after we completed the contract signing, we invited the couple to join my wife and I for dinner and got to know each other. The project was a great success and the customers love their new kitchen.
Any advice for someone thinking about making the leap and buying their own franchise?
Do your homework, talk to a handful of current franchise owners. Make sure you have the support of your family before taking the leap. Make sure you have a good business plan with enough capital in place and your home finances covered.

When you're not working, what is your favorite hobby or pastime?
Sailing, golf, tennis, kickboxing, going to the beach and hanging with our two golden retrievers.
What's something unique about your area?
There are so many unique things about Philadelphia and the Main Line . . . and the famous cheesesteak IS as good as they say!
We switch up our National Reunion location each year. What has been your favorite city to visit or most memorable Reunion so far?
We have loved them all, no matter what city they are in. There is so much knowledge to gain from our fellow Kitchen Tune-Up franchisees, and old and new friends to connect with.
Do you have a favorite cabinet door style?
Our wood SRP-10 door. It has so many variations and customizations available.
What was the biggest motivator to WHY you bought your own franchise?
To control my career and future.

What have you found to be the biggest benefit to franchise ownership?
There is nothing better than working for yourself and your family! Your hard work can lead to an unlimited future.