Featured Franchise: Kitchen Tune-Up Myrtle Beach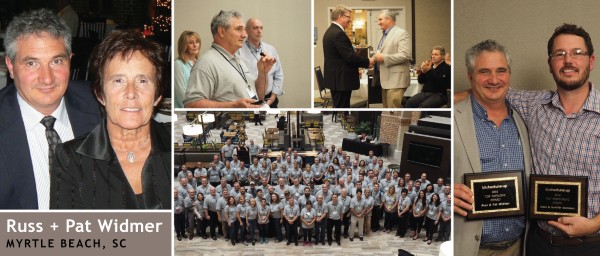 This week we're featuring Russ & Pat Widmer, owners of Kitchen Tune-Up Myrtle Beach. In the fall of this year, they will celebrate 16 years as Tunies! Kitchen Tune-Up is truly a family affair for this duo - their daughter and son-in-law are Kitchen Tune-Up franchisees also! Jennifer and Jesse Swanson own and operate Kitchen Tune-Up Charleston, SC. Russ and Pat relocated from Minnesota to South Carolina when they took the leap and bought their business and we're so glad they did! Here is more from our interview with Russ.
What was your career before becoming a Tunie?
I was in construction, and our family business was in the sewer & water industry. Pat was previously a realtor.
What is your favorite part of owning your own business?
Having our office at home allows us to work on things with the business any time day or night. We set our own schedule and it can be very flexible.
What comes to mind as your most memorable kitchen update?
We completed a condominium project that was 250 rooms! We coordinated all of the workers, the materials, and the project management, Everyone loved it and it was an awesome accomplishment.

Any advice for someone thinking about making the leap and buying their own franchise?
Be comfortable with your funding at the start. Have funds to cover the first year or two and it will save you a lot of stress. It takes some work to get launched.
When you're not working, what is your favorite hobby or pastime?
I enjoy tennis and pickleball. Pat enjoys her book club and Mahohg. We are both enjoy spending as much time with family as we can.
What's something unique about your area?
There is always something fun to do here and hundreds of places to eat. (The sun does shine here . . . a lot!)
Editor's Note: Kitchen Tune-Up LOVES Myrtle Beach! Our system has visited twice for our National Reunions, in 2006 and 2016.
We switch up our National Reunion location each year. What has been your favorite city to visit . . . or most memorable Reunion so far?
That has to be Nashville in 2012. We received the 2011 Franny of the Year Award with our family present.

Do you have a favorite cabinet door style?
Whatever my clients like! I'm a fan of installing all different colors and styles.

What was the biggest motivator to WHY you bought your own franchise?
Pat and I could do this business together, and we could relocate to where we wanted to retire and enjoy the beach.

What have you found to be the biggest benefit to franchise ownership?
There is support when you need it. It's nice to talk with other franchisees about questions and share in each other's success.