Featured Franchise: Kitchen Tune-Up of Billings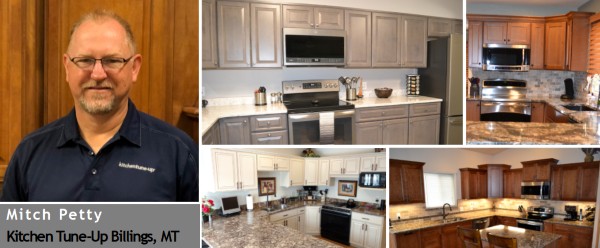 This week's feature takes us to Montana. Mitch Petty celebrated his 10th anniversary as a Kitchen Tune-Up franchisee this summer. After a decade of updating kitchens across Billings, he returned to our Home Office in Aberdeen, South Dakota to attend our week-long Training School. Technology and our processes are always changing and improving, so our franchisees are welcome back any time. Mitch enjoyed catching up with our team and the classroom training, and our team was thrilled to have an existing owner in class with our new locations to provide insight from the field and tips from his many years in business. Thanks again for the interview, Mitch!
You can find Kitchen Tune-Up of Billings on Facebook here.
Click here to see a video featuring some recent project photos.

What was your career before becoming a Tunie?
Retail management

What is your favorite part of owning your own business?
Flexibility with my schedule

What comes to mind as your most memorable kitchen update?
I completed a cabinet redooring with the addition of some new bar cabinetry, plus quartz countertops for a client with a log home in a wilderness setting. The clients were awesome and very appreciative that I took on their project. They had been in contact with other contractors in the area but were blown off because of the scope of the project and location that was out of town.

Any advice for someone thinking about making the leap and buying their own franchise?
If you are looking for a rewarding career helping people achieve their dream kitchens, while at the same time having the flexibility with your daily schedule and routine . . . then buy this franchise! Become a part of the system that embraces you and makes you feel like part of the family because you are.

When you're not working, what is your favorite hobby or pastime?
I love to ski with my family. We are a blended family with four children, two girls, and two boys. We have been actively involved with supporting our children and their activities including soccer, volleyball, baseball, football, and basketball. Needless to say, they have kept us on the go for many years. We are also a divided family in that some of us are University of Montana Grizzlies fans and some of us are Montana State University fans. We also love to get into the outdoors whenever possible. We are pet lovers too! We have a yellow lab named Wilson, A beagle named Lilli, and a fat cat named Simba. If we would have known he was going to be so plump, we would have maybe named him Garfield.
What's something unique about your area?
The Burger Dive in Billings has received several awards at a national level for its specialty burgers. The garlic burger is amazing (but very messy to eat)!
We switch up our National Reunion location each year. What has been your favorite city to visit or most memorable Reunion so far?
The conventions are always fun but my first one in 2009 in Las Vegas was probably the most memorable.
Do you have a favorite cabinet door style?
Our Sterling and Windom doors.
What was the biggest motivator to why you bought your own franchise?
To have the guidance and support of a tried and tested system.
What have you found to be the biggest benefit to franchise ownership?
The system itself. No need to invent something that already works well! Also, it is really rewarding to work with clients who really want an update in their home, but have no idea where to start and then guide them through a successful project.