Featured Franchise: Kitchen Tune-Up of Hampton Roads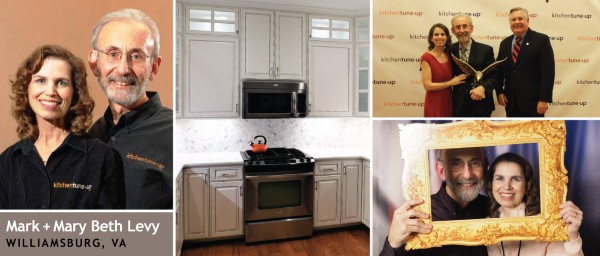 The Levys joined our Kitchen Tune-Up family in 2005 and are located in Williamsburg, Virginia. They have received numerous national awards over the years, and Mark is currently a member of our Advisory Council. Read more below and you can find them on Facebook.

What was your career before becoming a Tunie?
I have been a business owner in the direct marketing field most of my life. However, I did have a job in the oilfields for about 10 years in the 1980s. Other than that, I have always been in business for myself.

What is your favorite part of owning your own business?
Owning a business gives you the opportunity to build security, not just for yourself and your family, but for the people that work for you. You are limited only by your own capacity to dream big. You can start from scratch with a modest investment and grow a business that can become quite a valuable asset in your retirement portfolio. You can sell it or you can pass it on to your family. You can't do that with a job…
What comes to mind as your most memorable kitchen update?
Our very first Kitchen Tune-Up clients were friends of ours who were building their dream home in a gated community and asked us for a quote on the kitchen and bathroom cabinetry. (We didn't even know how to quote a simple Tune-Up yet, let alone a complicated project in a new custom home.) We would have been quite intimidated by the scope of work and the necessity for accuracy in the details of a project this size had it not been for the fact that we had just joined a nationwide franchise with decades of experience designing, quoting, ordering, and installing custom kitchens. We sent the blueprints to the Home Office who had an experienced NKBD designer on their team. How convenient for us greenhorns! We were made to look like seasoned professionals by delegating and sharing the responsibilities with the Home Office and manufacturers of all the pieces of the puzzle. We showed our friends samples and they fell in love with a door style. Shortly thereafter, the Home Office produced professional renderings and a detailed quote of the dream kitchen. We looked like rock stars to our friends and they became our very first clients. The cabinets were delivered on the exact date promised and installed by a professional sub-contractor. Everything went like clockwork and our friends were amazed at how we were able to pull that off being brand new to the kitchen remodeling business. We have been to many parties at our friends' new home and all of their guests have been quite impressed with the job we did. So much so, that it led to 3 more custom kitchen jobs over the next 12 months. It is now 15 years later and their kitchen still looks amazing, fresh, and up to date. They gave us our start in the kitchen remodeling business and we gave them the timeless gift of customer service, design, dedication, and lifestyle in the home of their dreams. It was a very rewarding experience and we could not have done it without the benefit of the built-in infrastructure in the Kitchen Tune-Up franchise system. The sense of partnership with our franchise system and the ability to provide our clients with a hassle-free experience makes every kitchen we improve a rewarding experience for both Mary Beth, and me, and our clients.
Any advice for someone thinking about making the leap and buying their own franchise?
Jump in with both feet and work the system. Don't just dip your toes in the water and experiment. The processes have already been figured out and they work if you work them. It is not necessary to have the experience, but it is extremely in your favor to follow the processes that the experienced and successful owners and KTU corporate have developed over the evolution of our franchise system. Go boldly forward with the faith that you will succeed. Make progress, not excuses. Believe, and you will achieve.
When you're not working, what is your favorite hobby or pastime?
We work hard at our business and it is great to take frequent small breaks with a good TV show, drama series, or dinner and a movie. We have a favorite park that we take walks in and we occasionally get together with friends.
What's something unique about your area?
Williamsburg is sometimes fondly referred to as the "cradle of American civilization" with the James River to the west, the York River to the east, and the Chesapeake Bay to the south. The colonial area has been preserved in its 400-year-old state with costumed actors on the streets and in the shops. Horse-drawn carriages and Fife & Drum parades, open markets with produce, and arts & crafts are an everyday occurrence. Neighboring Jamestown is one of the earliest settlements in America with present-day archeological digs that are still discovering new evidence of our past. Yorktown, named for the majestic York River is home to the battlefields where America won its independence more than 200 years ago. The waterfront area has been developed with unique shops and charming restaurants. There are museums and "re-enactments" that tell the story of our country's progress through the centuries. There is a lot to do and it is a great place to have friends and family come to visit.
We switch up our National Reunion location each year. What has been your favorite city to visit . . . or most memorable Reunion so far?
I would have to agree with Russ Rysavy that our 25th Anniversary Land & Sea Reunion was the most fun. We got to spend a lot of quality time relaxing with our Kitchen Tune-Up family on the cruise. However, the most memorable one was in Las Vegas in 2015 when we received the Franny of the Year Award. There is no higher honor than being recognized for just doing what motivates you. And the Alaskan trip as our prize was AMAZING!

Do you have a favorite cabinet door style?
We love our Andale and Manchester doors, which are very similar door styles.
What was the biggest motivator to why you bought your own franchise business?
First and foremost was the niche market that the services are geared towards. There are other companies that do the individual services that we do, but none of them offer ALL of the services that we do. We fill a void in expertise, customer service, and options
What have you found to be the biggest benefit to franchise ownership?
There are several benefits. The community aspect of a franchise system is the most important to us. We are part of a larger community of people that are doing exactly what we are doing. We all face the same issues and challenges and we can network for solutions and answers without worrying about competing with each other. Every owner is glad to help a fellow owner and the Home Office is the Mother Ship of inspiration, continuity, structure, and protection. There is a sense of belonging, relevance, and integrity in an otherwise crazy world of cutthroat competition and guerilla warfare consumerism.