Featured Franchise: Kitchen Tune-Up of La Junta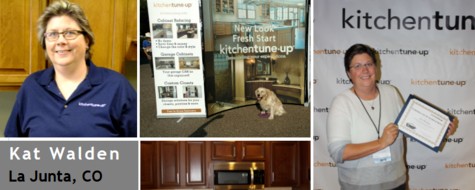 This week we asked Kat Walden to tell us more about her journey as a Kitchen Tune-Up franchisee. What inspired her to purchase a remodeling franchise? Read more below.
What was your career before becoming a Tunie?
I have co-owned the Sears Hometown Store in La Junta, CO since 2003 and a coffee shop café since 2004. Prior to that, I worked in human services working with the mentally ill or developmentally disabled off and on since the age of 18. Also mixed in there was a stint as a shipping and receiving manager with a ranch supply store and working as an Area Plant Supervisor for the telephone company. I've been working since I was about 13 years old when I went to work in my mom's business.

What is your favorite part of owning your own business?
Sears Hometown Store - Feeling like I'm helping to keep something in the community that would otherwise probably be gone. The Barista – I'm really proud of the healthy fresh food we put out and the environment we have in the restaurant. I love our loyal customers who seem to always brighten the day. Kitchen Tune-Up – everything! My customers, the fact that it is nationwide but still feels like family, being creative, and how happy my customers are when they see the completed project. Being able to grow something that will allow me to give back to the community.
What comes to mind as your most memorable kitchen update?
There are pieces in almost every job we've done that fall into this area. Two of my favorites were the customer who had never had a refrigerator in her kitchen and how happy she was when we were able to move it into the space. The other one is the customer who just kept coming in to tell us how much she loved her kitchen on the last day of the project. Every time she came in she pointed out something new she liked. The most fun would be when our customer walked in and told our sub-contractor that the tile and countertop weren't what she ordered. I'm not sure how she kept a straight face but she was kidding of course!
Any advice for someone thinking about making the leap and buying their own franchise?
I think sometimes people romanticize what owning your own business means. There are definitely perks to being your own boss. However, at the end of the day, you are responsible for all the good and bad – you get what you put in. It is a lot of hard work and some long hours before you get to enjoy some of the rewards that people associate with owning your own business. Because I've spent so much time in retail, this was the first Thanksgiving I've actually not had to work in some way in 14 years. I'm very grateful for Kitchen Tune-Up.

When you're not working, what is your favorite hobby or pastime?
One hobby is actually almost another job. We train, show, and breed golden retrievers. 2018 is going to be a very busy year because we have a golden that we will be campaigning. I have chickens, alpaca's, and goats and find them calming and fun to be around. I am remodeling an old farmhouse and working on the landscaping which has come a long way but I still have a long ways to go. I also get in an occasional golf game. Contrary to rumors that were spread earlier this year among the Kitchen Tune-Up Tunies . . . I do not have anywhere near a 3 handicap!
What's something unique about your area?
Of course, I have to say The Barista for coffee, ice cream, breakfast, and lunch. The biggest draw to our area would probably be Bent's Old Fort a historic site, the dinosaur tracks in Vogel Canyon for hikers, and the Koshare Dancers and Indian museum. There is a lot of history in the area.
We switch up our National Reunion location each year. What has been your favorite city to visit . . . or most memorable Reunion so far?
I've been to three so far and hands down it was this fall in Aberdeen, South Dakota. I had to drop something off at the Home Office the first morning I was in town, and it just made me really happy as I pulled up. The whole reunion was great.
Do you have a favorite cabinet door style?
I am in love with the Patina doors we offer. In addition, my favorite door is whatever makes my customer happy. At the end of the day, they are what is important.

What was the biggest motivator to why you bought your own franchise?
Wow, big question. I learned about Kitchen Tune-Up in 2015. The second I read the information about KTU I knew I wanted to be a part of it. I did the paperwork immediately. I didn't need to be sold on it after hearing about the company and the concept. I was already all-in. It is a business that is married to the things I like to do. It just fits who I am. I have told many people that it is the best gift I ever received and the best decision I ever made. We still have work to do, but I do not have one single regret about being a part of the Kitchen Tune-Up family.
What have you found to be the biggest benefit to franchise ownership?
I think the biggest benefits are still ahead as I am not yet to the level of growth that I would like to be. But the one benefit I will say I am most grateful for now and will be in the future is the support we have from the Home Office team. You feel like you have a whole team behind you that truly cares.
If you're in the La Junta area you can visit the Kitchen Tune-Up kiosk inside Sears Hometown Store, or call 719-468-1711. Visit their website here.
To learn more about our franchise opportunity, contact us today.