Featured Franchise: Kitchen Tune-Up Rapid City, SD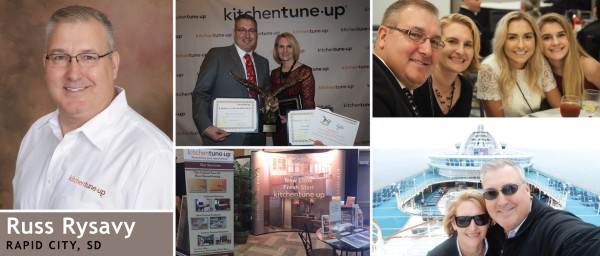 Over 29 years ago, Kitchen Tune-Up founder, Dave Haglund, came up with an idea to update kitchens differently. Many times you like your cabinets and your kitchen layout, but wood isn't maintenance-free and it needs help to look its best. That's where our Tune-Up service got its start. Different kitchens and different homeowners all have different needs, but Dave's focus was on customer service. The most important thing is trusting the people that you choose to do business with. As Thanksgiving approaches, we're thankful for his vision and for the dedicated pros that make up our system. It's our franchisees that work hard every day for their clients and live our brand that makes our system successful. Our 30th birthday is right around the corner and many services have been added to our lineup over the years. We keep learning and getting better because of our local owners, their ideas, and their clients.
Below is the first of our new Featured Franchise blog series. Each week, we'll introduce you to a new Kitchen Tune-Up owner. We asked them some questions about their business and what attracted them to join our franchise family and take the leap to own their own remodeling business.

Meet Russ Rysavy – Co-Owner of Kitchen Tune-Up Rapid City, SD
Franchise Owner since 2006
What was your career before becoming a Kitchen Tune-Up "Tunie?"
I have always been in the construction industry. I started at an early age helping my dad and his friends on remodeling projects. After high school, I attended Western Dakota Tech and completed the Construction Trades program. I went on to work for two great remodeling companies before starting my own. My wife, Pam, and I operated our company for approximately 7 years prior to becoming Tunies!
What is your favorite part of owning your own business?
The vacations! Actually, it's the freedom to set your work/life balance. I can set my priorities. Surprisingly, when you can do that, life becomes more clear.

What comes to mind as your most memorable kitchen update?
We worked with a very nice lady on an estimate for a full kitchen remodel. We knew it was a big project that would absolutely present some challenges. My team and I spent countless hours working with her on the design, cabinet style choice, countertop colors, tile and flooring, plumbing and lighting options, and much more. After we prepared a very detailed estimate, she decided to do the typical thing that prospects do and get a few other estimates. My team started to feel that might find the cheapest contractor to perform her project and our time would be wasted. My persistent follow-up must have worked! She decided to move forward and chose Kitchen Tune-up! From the very first moment we arrived on the job site, she was very cold to my crew. She told us how other contractors had mistreated her, how they damaged her home, and how they wouldn't do what they said they would do. I took her aside to discuss any concerns she had with the project. She admitted that she was very nervous about this project since it was the largest home project she has ever done. I assured her that we would continue to communicate with her and that we would give her nothing but our absolute best.
As the project was almost wrapped up, we had a final completion date for the following Tuesday. My crew must have had the stars aligned because we actually were able to finish on the Friday before. After knowing this, I went to the local flower shop and purchased a nice bouquet and a thank you card that I had all the crew and our sub-contractors sign. As we were doing the final cleaning and wipe-down, she arrived home. To her surprise, the project was complete! As she looked around the room, she saw the flowers and the card and started to cry. She went around the entire room and gave everyone a big hug. She had a hard time expressing how thankful she was through all the tears. She explained that we are nothing like the other contractors. She said my entire team, crew, and subs were the best she has ever seen. We have since completed another smaller project for her and 4 other projects for her friends that she has referred to us over the years. It never hurts to be different! That is what the Kitchen Tune-Up brand is about – we are NOT ordinary remodelers!
Any advice for someone thinking about making the leap and buying their own franchise?
You are buying into a proven system. Within that system is the best support group you could have. Oh, and you start making money from your very first sale!

When you're not working, what is your favorite hobby or pastime?
I spend a lot of time with my family. We love to travel, attend kids events, camp, hunt, bowl, and spend time with friends. We purchased a motorhome and find ourselves cruising down the highways to the next destination!
What's something unique about your area?
We seem to be in the middle of nowhere, but the Black Hills of South Dakota are known for their famous Mt. Rushmore, Sturgis motorcycle rally, and historic Deadwood. Rapid City is home to approximately 70,000 people that love Kitchen Tune-Up!

We switch up our National Reunion location each year. What has been your favorite city to visit, or most memorable Reunion so far?
I would have to say that my most memorable reunion was in Fort Lauderdale when we did the "Land and Sea" reunion for KTU's 25th Anniversary celebration. The cruise was awesome! (But all the others came in a close 2nd.)

Do you have a favorite cabinet door style?
Our Sterling door! It's what we put in our house. It's a shaker style with an applied molding. It's available in loads of paint & stain options and can be distressed or glazed.

What was the biggest motivator to WHY you bought your own franchise?
I was the "little fish in the big pond" with my previous remodeling company. I needed a proven system to follow to get to where I wanted my business and my life to go. Kitchen Tune-Up offered the opportunity to continue working within my chosen career. No better motivation than being able to stay in your chosen career path and get the training and support of a nationally recognized franchise!
What have you found to be the biggest benefit to franchise ownership?
The proven system. So much knowledge and support throughout KTU!

Visit Kitchen Tune-Up Rapid City, SD online here. Learn more including:
2015 Franny of the Year
2012 National Project of the Year Award Winner
2009 National Customer Service Award Winner
Find them on Facebook - Kitchen Tune-Up Rapid City, SD