Focusing on Family Business in Franklin, IN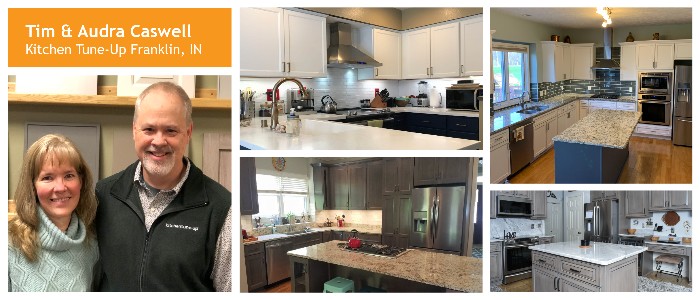 Tim and Audra Caswell, owners of Kitchen Tune-Up Franklin, Indiana
Tim Caswell was ready to leave the automotive industry, where he had built a career managing product development. But Tim wasn't looking to retire—he craved a new challenge and wanted his own business. After about a year of investigating franchises, he'd come close to committing a few times, "but just didn't feel it was the right fit for our family," he says.
The keyword there: Family. For Tim and his wife Audra, their next business venture needed to be a family affair, and when Tim discovered Kitchen Tune-Up, he felt he'd found the perfect fit, a company he describes as one "that truly has your best interests at heart."
So Tim and Audra's family joined the Kitchen Tune-Up family, opening a franchise in Franklin, IN.
A Great Business for Families
Tim's biggest motivation for owning a franchise, he says, is "being able to have something we could do together, and also have our adult children join us in the adventure." Kitchen Tune-Up caught the whole family's eye, he adds. "A kitchen business is something both my wife and daughters were interested in, making it a family business…I love the small family feel and personal touch that Kitchen Tune-Up offers."
Audra notes that their personal interest in updating their own homes over the years lends them special enthusiasm for Kitchen Tune-Up because "we recognize that awesome feeling you get when adding something fresh and new."
Support for Franchise Owners
The company's strong support for franchise owners is another plus for Tim. "The weekly Group Validation Calls and knowing there would be on-site training was super helpful in making our final decision," he says.
Because Tim is new both to owning a franchise and to the kitchen renovation and remodeling business, he values what he calls the "extensive and thorough" training Kitchen Tune-Up provides. "There is a lot to learn, and the Kitchen Tune-Up Home Office staff is always there to answer any questions and concerns while also encouraging us," he says. "The support and guidance at Kitchen Tune-Up and with fellow franchisees have been amazing."
Tim and Audra moved to their current home in Edinburgh recently to enjoy more rural life, and they spend time with their children and grandchildren who all live locally too. They want their business to become part of their larger community by supporting local functions.
To see how the Caswells are transforming kitchens in their area, check out their Project Gallery. If Kitchen Tune-Up sounds like the right franchising fit for you, learn more with a visit to our franchise website.