Franchise Spotlight: Toni Amenrud, Owner of Kitchen Tune-Up St. Paul Northeast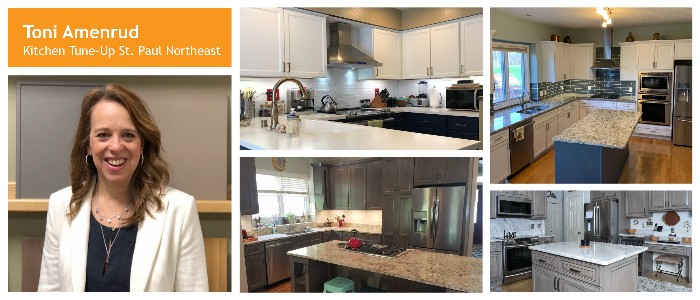 Toni Amenrud, owner of Kitchen Tune-Up St. Paul Northeast
Toni Amenrud joined the Kitchen Tune-Up family in St. Paul, MN, this year because she says, she wanted to own her destiny.
After more than 20 years in marketing, Toni found herself looking for a new opportunity. She explored franchises. Toni initially wanted an ice cream business but learned that food franchises' survival can prove tricky.
Toughest of all, Toni's search for her new career began just as the coronavirus pandemic hit. What kind of venture could thrive in such a tough new economy, while also giving her the independence she wanted?
Kitchens: The Heart of the Home
Toni realized that as people spent increasing time at home during the pandemic, kitchens became more important. The home was the center of daily life and the new local "restaurant." Toni enjoyed the idea of revitalizing outdated homes. Kitchen Tune-Up was the right choice for her.
"A franchise gave me to the opportunity to start with a proven brand and program but with the ability to make it my own business," Toni says. She applies her marketing and management background to her franchise. Still, Toni says, she had a learning curve.
"There are a lot of little details to starting a business," she says. "It can be overwhelming at times. At the same time, there are so many people and resources to help you succeed." Those resources included three weeks of online pre-training, extensive training for two weeks in person, and twelve weeks of online post-training.
"Be Your Own Boss"
Toni's career change drew the attention of the St. Paul Pioneer Press, which profiled her as a new franchise owner finding opportunities during difficult times. The newspaper noted that Toni's Kitchen Tune-Up is growing quickly: She is hiring new team members and will move the business out of her house and into a new office and warehouse soon.
"If you want to work 40 hours and have a routine life, this is not for you. If you want to create your own destiny and be your own boss, this is it," Toni told the newspaper.
Toni also wanted a business that could eventually involve her kids. She and her husband have a blended family with five children, and the family enjoys camping, motorcycling, and working in the yard of their lakeside home.
Toni's business focus is "making homes the best they can be and keeping them current and functional." Visit the Kitchen Tune-Up St. Paul Northeast Project Gallery here to see how she and her growing team change homes for the better.
To learn more about Toni and Kitchen Tune-Up St. Paul Northeast, visit her website and Facebook page. Want to learn more about starting a Kitchen Tune-Up franchise? Visit our website.