Franchising Allows Me to be the Mayor of My Town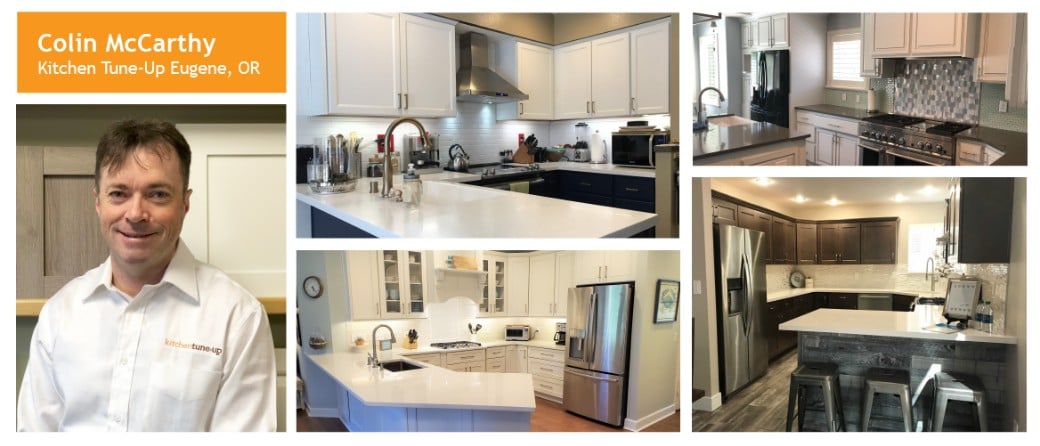 When you purchase a franchise, you learn quickly how important it is to become the "mayor" of your community. Networking becomes a main priority for lead generation as well as building rapport with synergistic businesses. We are the kitchen experts, so customers look to us to recommend appliance stores, granite shops, or flooring experts and it works both ways! The goal is to become the first call everyone makes when they are looking to update their kitchen.
Colin McCarthy, owner of Kitchen Tune-Up serving Eugene and Springfield, Oregon, loves how much he is being pushed to be an active member of his community. He says, "I love the network of people I've met so far and being a local business owner has pushed me outside my comfort zone. I've joined several organizations and met some amazing people in my community!"
Soon, Colin will be recognized out in the community as the "kitchen guy" as he continues to remodel kitchens, join community events and expand his professional network.
The mission of Kitchen Tune-Up Eugene, OR is to "delight our customers and neighbors throughout the area by delivering high-quality, customer-focused solutions that 'wow' our clients. Our team listens carefully to our clients and works through our long-proven process to identify simple, quick, and high-impact kitchen solutions that will deliver value and satisfaction for years to come. Our goal is to impact the lives of the clients we serve by transforming the heart of the home easily and quickly."
We asked Colin why he and his wife love their new adventure with Kitchen Tune-Up and he said, "We get to help people transform the most important room in their home! We deliver more than expected, faster than expected, often for less than expected. People invite us into their homes, they trust us, they allow us to get to know them and work with them. We deliver 'wow'...how fun and rewarding is that? We love the satisfaction of a job well done and Kitchen Tune-Up can give us that every single day."
To learn more about Kitchen Tune-Up Eugene, OR visit their website and Facebook page or give them a call at 541-300-8090.