Hands-On Help for Kitchen Tune-Up Customers in Michigan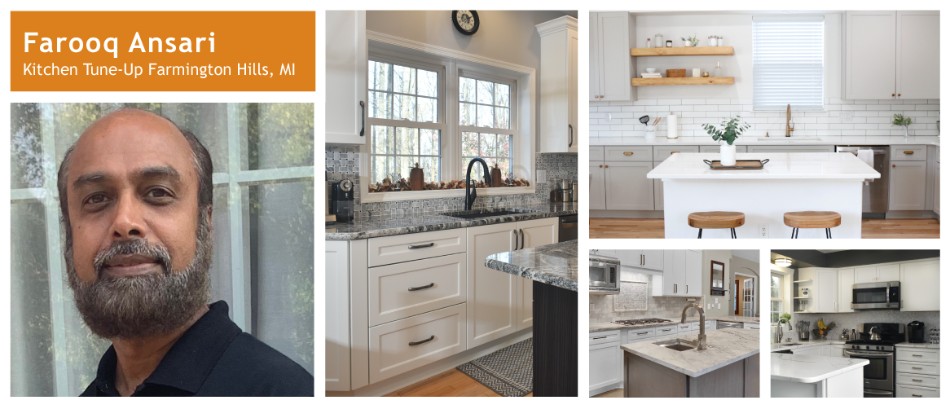 Homeowners in Farmington Hills, MI, can turn to a new Kitchen Tune-Up to make their kitchens more beautiful and functional. New local owner, Farooq Ansari, aims to provide quality service without disrupting clients' lives.
Ansari spent 25 years as a successful automotive engineer before opening his Kitchen Tune-Up franchise. He considered other career changes and chose kitchen remodeling because he believes its future is strong.
He also knows that Kitchen Tune-Up has his back. "Going through the Discovery process and talking to other owners showed me just how much support I am going to receive beyond the initial training and that I will not be out there on my own," Ansari says.
Like other recently minted Tunies, Ansari took Kitchen Tune-Up intensive virtual training. An advantage of virtual training is being in the comforts of your own home, Ansari notes.
For the training, the company ships everything well in advance so the owners can open the boxes coordinating to each day and have everything right at their fingertips. Ansari says he feels the virtual training was effective and he learned as much as he would have in person. "I believe in touch and feel," he says. "So it was nice that I was still able to do a practice Tune-Up and get my hands on the products and have all of my door samples right in front of me."

Ansari is hands-on in his life away from Kitchen Tune-Up, too. "I love working with my hands and own several properties that keep my home improvement list quite long!" he says.
Sports-loving Ansari also keeps busy playing competitive table tennis. His wife is a preschool teacher and their daughter, majoring in public health, will graduate from the University of Michigan in the coming year.
Kitchen Tune-Up Farmington Hills serves Farmington, West Bloomfield, Franklin, and surrounding Southeast Michigan communities. Ansari hopes to provide his team with a great working experience while also ensuring customers get remodeling services that don't disrupt their day to day lives.
To see what Ansari's team is working on, visit their website and Facebook page.