Houston Kitchen Tune-Up Owner Anticipates "Building a Strong Business"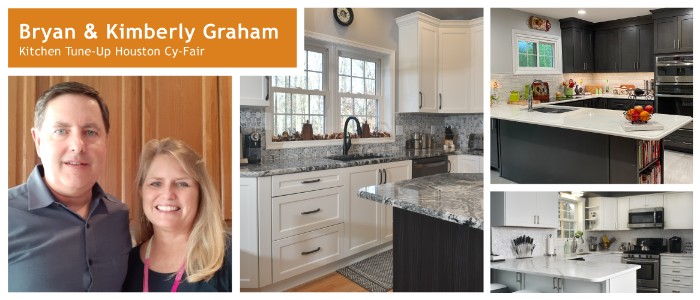 Bryan Graham, new owner of Kitchen Tune-Up Houston Cy-Fair, says he always wanted to own a business. During his 30-year career in the energy industry, he periodically investigated franchises, looking for a company that would be the best fit and help him become his own boss.
You can guess where this is heading, right? "Until Kitchen Tune-Up, none offered the right combination of a solid business model, franchise support, cost of entry, and earnings potential," said Graham.
He had narrowed his search down to three franchise concepts and chose Kitchen Tune-Up. The company's professionalism and personal approach helped seal the deal. Kitchen Tune-Up "was diligent in contacting me and providing 'day-in-the-life' testimonials from existing owners," Graham recalls. "I found the weekly Group Validation Calls calls to be extremely valuable in building my business plan. Throughout the process, everyone I worked with at Kitchen Tune-Up demonstrated that I was important to them and I appreciate all the effort that went into helping me become a franchise owner."
Together with his wife and business partner Kimberly, Graham is looking forward to "building a strong business."
Virtual Training Gets the Job Done
Kimberly spent 20 years as a preschool teacher. Bryan started out as a financial analyst for a major oil and gas company, but spent most of his career selling technical software and services to customers in the energy industry. Like many Kitchen Tune-Up owners, they come to Kitchen Tune-Up with no career background in home renovations or construction. Bryan says he finds he can still apply his customer service and business experience to Kitchen Tune-Up.
Training to become a franchise owner has changed over the past year, with virtual training now the "new normal." For Bryan Graham, training in his own home worked well.
"I think [virtual training] is a very effective format," he says. Virtual training was less expensive than traveling to attend in-person training, Graham says, plus he found it "probably easier to complete homework assignments from home than in a hotel room."
Like most recently minted franchise owners, Graham says he did not want to postpone his training to wait for in-person classroom sessions. He was eager to launch his business, and virtual training made that possible.
Participants spread across different time zones might find virtual training a challenge, Graham says, but adds: "I think I was as focused, possibly more so, than in a class setting—everyone has a front row seat!"
Graham assures future owners that virtual training will teach them what they need to know. "The content is put together well and the sessions flow logically. Regardless of whether in-person or virtual, the training program is very effective in preparing you to open your business," Graham says.
The Grahams raised their two children in Houston. Bryan plays guitar and you can find him on stage supporting community churches and local musicians. Kimberly documents life events with photography and enjoys creating photo albums.
To see more of how the Grahams and their team work to make kitchen dreams come true for Houston homeowners, visit their website.