Kitchen Tune-Up Expands in Phoenix, AZ By Adding Third Location in Metro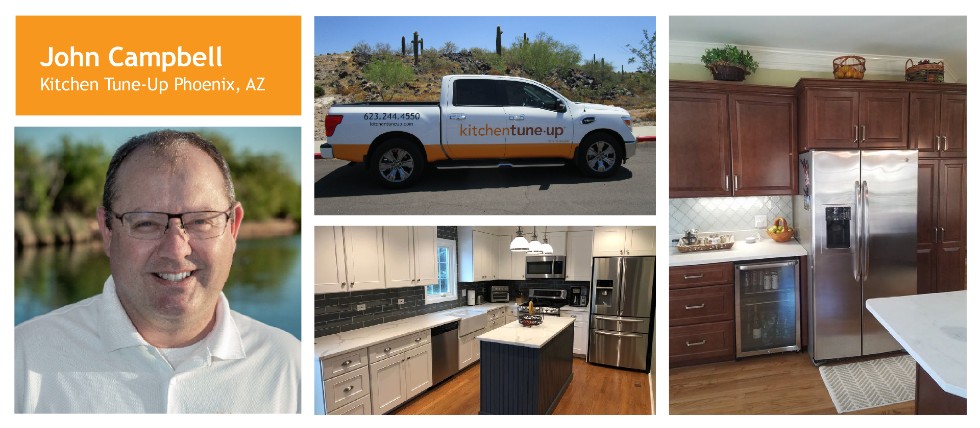 We are excited to welcome John Campbell II to the Kitchen Tune-Up family! He was part of our April training school and is now up and running in Phoenix, Arizona. Kitchen Tune-Up now has three franchise locations serving the Phoenix Metro.
What was your career before becoming a Tunie?
I was a project manager for large corporations, and I enjoy planning and executing. Each new project is exciting and comes with its own challenges and opportunities.
Why did you want to become a Kitchen Tune-Up franchise?
Entrepreneurship is something I hope everyone gets to experience. Kitchen Tune-Up provides the opportunity to captain my own ship among many other like-minded entrepreneurs using proven business systems and service methods.
Any advice for someone thinking about making the leap and buying their own franchise?
Pursue your dream! Be practical and you will know what is right for you when you experience it. Be persistent keep the end state in mind whenever you hit a bump in the road.
What are you doing when you're not working?
I focus my available leisure time on my two teenagers. I want to enjoy them as much as possible before they head off to college.
What was the biggest motivator to why you bought your own franchise?
In the realm of new business start-ups, franchises have a vastly superior 5-year survival rate compared to individual start-ups.
What have you found to be the biggest benefit to franchise ownership?
Rapid start-up and the ability to apply lessons learned by my predecessors. Not having to make every mistake myself is a primary benefit of joining a franchised community.
Who is involved in your business?
My son is a technician and hopefully a future franchise manager. I am actively recruiting other family members for roles that suit their goals.
What local associations do you belong to?
I have volunteered with Habitat for Humanity working on new home builds in the region and I am excited that I can continue to support them with my business.
What is your mission statement?
Our mission is to provide our customers exemplary service experiences sharing with them the pride in homeownership and excellent craftsmanship. We strive to partner with our customers and vendors to create outcomes everyone can be proud of. Our employees provide the highest levels of customer service and share in the rewards of long-term relationships. We are driven to grow professionally and make positive impacts in our community.
Why do you love being a kitchen remodeler?
Our homes are where our families gather, and the kitchen is the heart of the home. Decisions involving the kitchen are important since they affect how we feel about our spaces and play a vital role in our daily activities. Homeowners need to know they are being heard and that their vision for the kitchen will be realized. Delivering a kitchen Tune-Up or remodel that excites the homeowner and enables them to anticipate all the amazing interactions that will happen in that space is what makes kitchen remodels so much fun.