Kitchen Tune-Up is Named a Fran-tastic 500 Brand!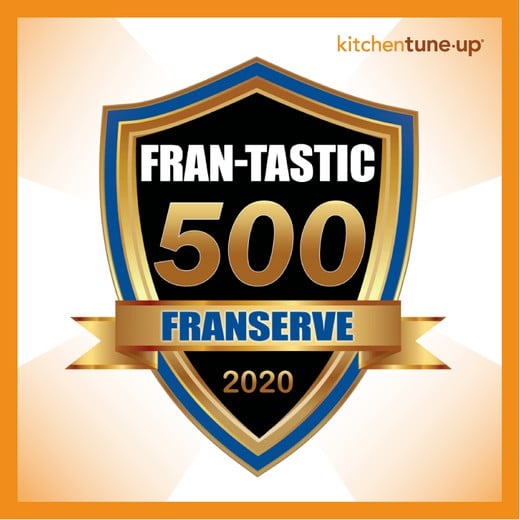 Kitchen Tune-Up has been recognized as one of 500 Fran-tastic brands in 2020! The Fran-tastic 500 Award is given out by FranServe, one of the big names in the franchise world. For years they've been helping people gain financial freedom and become entrepreneurs through franchise ownership. They're familiar with most of the franchises out there, having worked with many of them. And now they've pooled all that knowledge together and selected the top 500 franchises!
We're honored that FranServe chose us as one of the franchises worth highlighting. At Kitchen Tune-Up, we know that it's our franchise owners who make the business work. When owners are empowered to deliver quality service to customers, that's when you've got a company worth talking about.
As the award's name implies, we did share the spotlight just a tad. You can visit FranServe's website to see the full list of all 500 winners. The winners were selected based on brand identity, turnkey model, operational support, superb training, industry leader, scalability, quick launch, and clear marketing message.
Alesia Visconti, CEO of FranServe Inc. says, "Franchising is a way for many people to be an entrepreneur and be their own boss. A brand that makes our annual "FRAN-TASTIC 500" list demonstrates that it goes above and beyond the norm in helping people fulfill their dreams of business ownership through franchising! It's a brand that sets itself apart!"
Standing out from the pack has been the goal of Kitchen Tune-Up from the start. We strive to set ourselves apart from other home remodeling companies as well as other franchises.
Interested in what all the fuss is about? You can learn more about being a Kitchen Tune-Up Franchise owner at ktufranchise.com.