Kitchen Tune-Up Named a Top 100 Franchise under $100K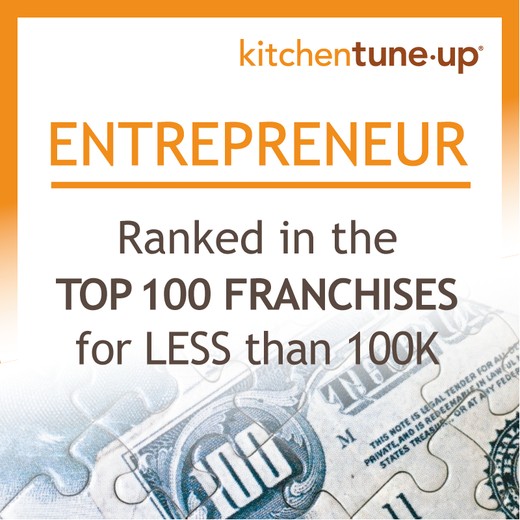 It's awards season again, and we're thrilled to be winners once more! This time, Kitchen Tune-Up has been named one of the Top 100 Franchises under $100K by Entrepreneur.
This award doesn't just mean the cheapest franchises around. Instead, Entrepreneur focuses on which franchises offer the most value for a relatively low starting cost. The award ranking is based on the scores given in Entrepreneur's 2020 Franchise 500 Ranking.
We're proud to occupy a space as a budget-friendly franchise with enormous opportunities for growth. Our services stretch all across the country, a feat only made possible by the hard work and dedication of all our franchise owners.
The best franchises under $100K
These are the kinds of awards we love to win because they line up so perfectly with our company vision. At Kitchen Tune-Up, we want to offer convenient, quality, and fair-priced opportunities to our customers and our franchisees. And we're thrilled to be recognized for that.
There's more to consider when purchasing a franchise than the raw cost alone, but the ability to start a business without breaking the bank is ideal. We want our franchisees to succeed, and keeping initial costs low is the main component of that promise.
Because when one of our franchise locations does well, it's great for the whole Kitchen Tune-Up family. Many of our franchisees start off with one location and go on to expand their service territories and open new locations.
You can check out the full list of all 100 of the top franchises under $100K here.
Interested in starting your own franchise adventure? Go to our website to learn more about Kitchen Tune-Up opportunities and the stellar services we offer.