Kitchen Tune-Up Now Open in Minot, North Dakota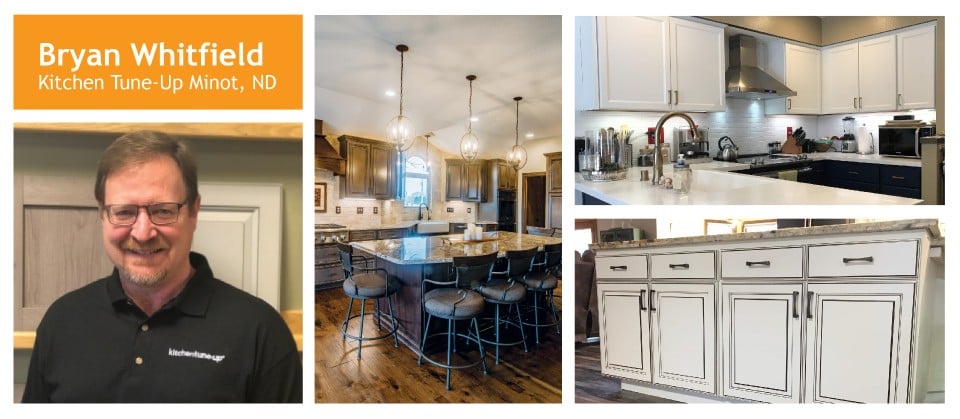 We are happy to welcome Bryan Whitfield to the Kitchen Tune-Up family. He recently opened his Kitchen Tune-Up franchise in Minot, North Dakota. Thanks for the interview Bryan!
What was your career before becoming a Tunie?
I was the owner of a stone countertop outlet business. In my interactions with customers, I realized the need for another solution to renovating kitchens and bathrooms at different price points. I started researching the different franchises that offered these options and I settled on Kitchen Tune-Up as the best option.
Why did you want to become a Kitchen Tune-Up franchise?
I wanted to become this franchise because I wanted a proven system that I could utilize from the start to help grow my business. I was very impressed with the company's long history as a franchise, its core values, and the unique services that they offered customers. After attending the training school, I was blown away and very excited to belong to such a family-oriented and professional franchise.
Any advice for someone thinking about making the leap and buying their own franchise?
If you are looking for a franchise in the remodeling industry your search has ended! This is the best franchise to be a part of, hands down. They have thought through every little detail you could think of to help you become a successful franchise owner. Plus, now I know that they have the infrastructure to assist you with any challenge that you may face as a franchise owner. I am very excited to begin this new adventure in my life with a great team that has my back and wants me to be successful.
When you're not working, what is your favorite hobby or pastime?
I love to ride mountain bikes, go on long hikes, golf, and do anything to do with the outdoors. I also love escape rooms and working with others to overcome the challenges of escaping from them.
What's something unique about your area?
Minot is home to the B52 bombers and Missile Group at the Minot AFB. It is an oil-boom town and farm community. Dakota is a Sioux word meaning friends or allies, and Minot holds true to this by having some of the friendliest people you will ever meet. The surrounding area provides the hunting and fishing enthusiast with ample opportunities. We are also near the largest man-made reservoir in the US called Lake Sakakawea.
Do you have a favorite cabinet door style?
Haglundridge, because it is unique and exclusive to Kitchen Tune-Up, and I think it awesome that it was named after the founder, Dave Haglund.
What was the biggest motivator to why you bought your own franchise?
The biggest motivator was the cost of the value that the franchise offered. The family atmosphere that was demonstrated by everyone that I interacted with prior to purchasing the franchise was also a big motivator. Finally, I liked the long history of the franchise and the services that Kitchen Tune-Up had to offer.
What have you found to be the biggest benefit to franchise ownership?
The system is already established and proven. I am convinced that if I work the system that I have been taught in a training school that I can become profitable as a franchise owner.
Who is involved in your business?
I have three employees and my wife, Susan, will help me work the franchise during the summer months when she has to time off from teaching.

You can reach Bryan and his team on Facebook here or at kitchentuneup.com/minot-nd.