Kitchen Tune-Up Opens in Mission Viejo, CA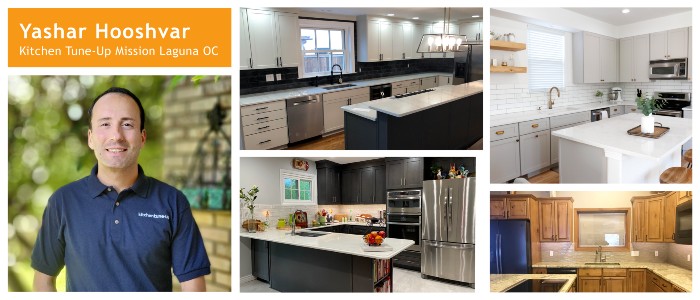 Yashar Hooshvar, owner of Kitchen Tune-Up Mission Viejo OC
Kitchen Tune-Up has opened its doors in Mission Viejo, CA. New franchisee Yashar Hooshvar is ready to bring beautiful kitchen upgrades to customers all over southern Orange County.
Yashar comes from a career in contracting and construction management. He started investigating franchises when he realized he wanted financial independence and control of working for himself. Kitchen Tune-Up was the right fit with his background in building.
Two things about Kitchen Tune-Up stand out for Yashar: "Established, national brand and organization support," he says.
By joining Kitchen Tune-Up, he gets the company's well-known quality and reliability. He joins an already established, nationwide network of relationships with suppliers and vendors. And Kitchen Tune-Up is always there to provide training and ongoing guidance to franchise owners like Yashar.
"The Most Important Room"
Yashar says he "always had a passion for remodeling homes and making them look and function better." Like many dedicated franchisees, he sees the home as the center of people's lives, and the kitchen as the hub and a place worth improving. "We spend most of our time in our kitchen sharing special moments with family and friends," he says.
Those moments are personal for Yashar, his wife, and their young son. "Most of our family and friends are here in Southern California, so we love spending time with them as much as we can," he notes. When he's not working or hanging out with family, Yashar loves to play soccer, take his family to the beach or watch films. He calls himself an "avid" movie buff.
Yashar notes that his new Kitchen Tune-Up business is family-owned, and he wants to help other families achieve their dreams of transformed homes with both beautiful looks and improved functionality. He's "excited to bring my talent and expertise to my neighbors and update the most important room in the home!"
Those neighbors in Orange County include customers in Mission Viejo, Ladera Ranch, Laguna Hills, Laguna Niguel, Laguna Woods, and surrounding communities.
Visit Kitchen Tune-Up Mission Laguna OC's website and Facebook to learn more about what he and his team are doing. Kitchen Tune-Up offers five service options at different price points, and the Mission Laguna OC team can complete most projects in less than five days.