Kitchen Tune-Up Opens Its Doors in Vernon Hills, IL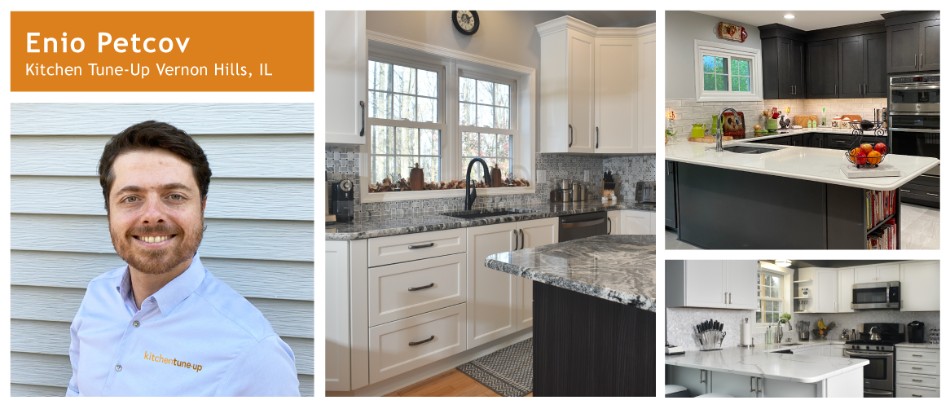 Enio Petcov, owner of Kitchen Tune-Up Vernon Hills, IL
Enio Petcov is the new owner of Kitchen Tune-Up Vernon Hills, IL, bringing his personal enthusiasm for great remodeling to customers all over the northwest Chicago and Lake County areas.
Petcov gets his interest in remodeling from his own experience as a homeowner. When he and his wife bought a new house in 2019, they remodeled the kitchen themselves. The project was their first do-it-yourself remodeling effort. They loved the results so much that they started researching how to go into the remodeling business.
"Kitchen Tune-Up came across our internet searches, and we figured it would be a good way to start a business, with Kitchen Tune-Up, as we had almost zero experience," Petcov recalls. "Kitchen Tune-Up wants owners to grow and they are ready to support us."
Petcov says he has become "passionate about creating new environments and designs that can make us love our spaces again."
Remodeling is also about making kitchens more functional and useful, whether the homeowner is eating meals with family or entertaining a crowd. "The kitchen is always the first place we need to love, and I am thrilled that my business can pave the way for others to feel great in their own kitchens," Petcov adds. "Whatever the size of the job is, we can turn the space into pure joy."
Learn from Experienced Franchisees
Petcov's professional background prepared him well for owning a franchise. After 20 years of finance and treasury management roles in global companies, he was ready for a change. Project management was the aspect of his career that he enjoyed the most. "Managing kitchen projects as a franchise owner would be putting together two of my deepest experiences on projects and business management," he says.
New franchisees like himself can trust and learn from the experiences of established franchise owners, Petcov notes. "Franchise business shows strong evidence of success," he adds.
See what the Vernon Hills Kitchen Tune-Up team is working on. Visit their website and Facebook page.