Kitchen Tune-Up Pledges: "No Tunie Left Behind"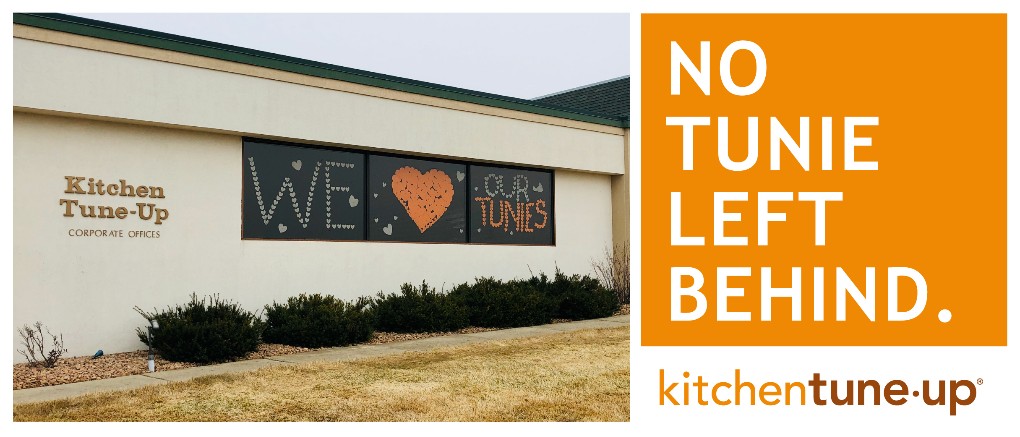 Kitchen Tune-Up Home Office has pledged "No Tunie Left Behind."
At Kitchen Tune-Up, we are turning up franchisee support and client offerings to offset the impact of COVID-19.
To reduce the ramifications of the novel coronavirus on business operations and to decrease the spread of germs, we have implemented several new programs and protocols including new DIY options, virtual estimates, and updated sanitation practices.
"We are in uncharted territory, but our team at the Home Office is making strategic decisions to ensure our franchise owners not only survive this pandemic but emerge stronger," said Kitchen Tune-Up president, Heidi Morrissey. "The secret to our success is listening to the needs of our franchise owners, updating systems and processes based on those needs, and maintaining constant communication and transparency with our franchise system."
Despite coronavirus restrictions, Kitchen Tune-Up has continued to innovate. Our franchise locations are now offering virtual project estimates in place of in-person meetings. Plus, franchises have introduced DIY services ranging from cabinet redooring to garage shelving and storage projects. Through virtual connectivity with people at home, our Tunies and their team members can provide their clients the necessary guidance on products, tools and directions to accomplish tasks on their own.
"Our new programs and protocols were created with the goal of keeping both our clients and the Kitchen Tune-Up family comfortable, safe, and engaged during these difficult times," added Morrissey. "It is imperative that we have all of our franchisees and their teams in mind and adjust our support and operations around their needs as the environment we live and work in changes for the time being. I am proud of how our home office team and franchise owners have come together to remain incredibly relevant in the communities we serve."
As an added precaution, franchisees are implementing extra sanitation practices – like wiping down surfaces before and after work is complete – to ensure the health and safety of their clients and team members. These additional practices apply to all employees and work on behalf of any Kitchen Tune-Up location. The Kitchen Tune-Up Home Office has sourced hand sanitizers and cleaning products that franchise locations are not able to find locally.
To ensure that during these unprecedented times there is "No Tunie Left Behind," Kitchen Tune-Up is forgiving minimum royalty fees for any franchise owner affected by a mandated government shutdown.