Kitchen Tune-Up's Heidi Morrissey Honored as "Woman of Wonder" in Franchising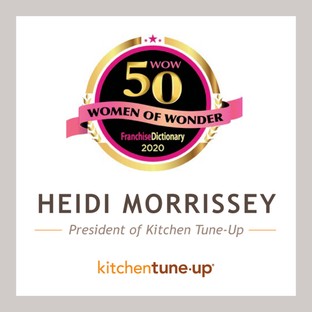 Kitchen Tune-Up President, Heidi Morrissey, is one of Franchise Dictionary Magazine's 50 Women of Wonder for the second consecutive year. The award honors women franchisors who break barriers and create paths into business ownership for others to follow.
The award citation notes that her "steadfast leadership and encouragement keep her team laser-focused and her franchise family moving forward."
Heidi's dedication to making Kitchen Tune-Up a household name in her father's lifetime is evident with the continued growth of franchises as well as the Home Office support team. Responding to the challenges of operating in a pandemic, she successfully transitioned the company to virtual training schools. On her watch, Kitchen Tune-Up hit a milestone in July by opening a franchise in its 40th state. She also connects with her franchisees consistently through weekly coaching calls, a daily podcast, and an open invitation for franchisees to call her.
Heidi took the reins as president of Kitchen Tune-Up in 2017, after 14 years with the company. Kitchen Tune-Up is truly a family business for Heidi, whose parents, Dave and Cindy Haglund, founded the kitchen remodeling company in Aberdeen, SD, in 1988. She learned all the support roles in the Home Office, got to know the franchise owners, then spent 13 years in marketing and sales.
"Each year more and more women are making an impact in the franchise industry," said Alesia Visconti, Publisher, and CEO of Franchise Dictionary Magazine. "They are changing the landscape, implementing new initiatives, and bringing groundbreaking ideas to the table. Franchise ownership changes lives and allows people to follow their dreams of business ownership.
"Our '50 Women of Wonder' are some of the most amazingly talented, strong, and dynamic women franchisors in the franchise industry," Visconti said. "We thank them and are thrilled to celebrate their contributions!"
The Kitchen Tune-Up family congratulates Heidi on her second Women of Wonder honor. You can find the write-up about her achievements in Franchise Dictionary Magazine's October issue, linked here.