Making Clients' Dreams Into Realities in Tyler, TX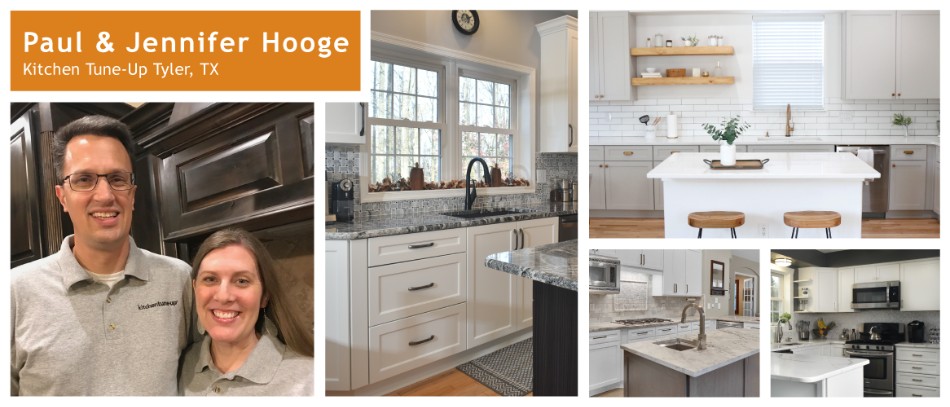 Paul Hooge wants to "help people create a place that is their own" with beautiful kitchens from his new Kitchen Tune-Up in Tyler, TX.
In his career as a mechanical engineer, Hooge had roles across engineering, maintenance and operations functions. When he set out to start his own business, he wanted more "hands-on projects with short lead times that would provide almost instant gratification to me and my customers." Kitchen Tune-Up fit the bill, plus it offered a "family feel" he found appealing.
The focus on customer service attracts him, too. He wants to turn clients' wishes into realities. "What they define as their own will span from being a personalized retreat from the outside world to being a gathering place that can accommodate more family and friends," Hooge notes.
Through the Eyes of Tunies
Hooge joins Kitchen Tune-Up following a career as a mechanical engineer, in engineering, maintenance, and operations roles. "I have learned that even though most of my previous experience was not cabinet related, it is still going to help me start-up and manage my Kitchen Tune-Up franchise," he notes.
Taking on a new venture like a franchise can seem daunting. That's why Kitchen Tune-Up connects new owners with experienced Tunies for "validation calls" about what it's truly like to run your own franchise. As he got to know Kitchen Tune-Up, Hooge found that the validation calls were his favorite part of the process.
"They allowed me to see Kitchen Tune-Up through the eyes of Tunies with varied experience levels," he says. "The information that they shared gave invaluable insights into the Kitchen Tune-Up culture and provided a nice preview of the systems that we learned during our initial training."
Kitchen Tune-Up also assesses how new franchise owners respond to the company's virtual training program, so it can keep improving. Asked if he found it harder to focus when training at home than if he'd been in person, Hooge said, "I thought that would be the case, but it wasn't. I'm going to credit the trainers for that. It was very obvious that they were well prepared and enjoyed what they were teaching, so that helped keep me engaged."
Virtual training includes both large group and small group activities, including daily one-on-one check-in time with an assigned Home Office member.
Training at home saved time and money on travel, too, giving Hooge more time with his wife, Jennifer, a special education teacher who enjoys helping students reach goals they thought weren't possible. The couple stays busy with their three children, watching movies as a family, working in their yard, or hiking in their neighborhood or state parks.
The mission of Kitchen Tune-Up Tyler, TX is to recreate spaces for its customers to match their individual needs, personalities and lifestyles. To see what Hooge and the team are up to, check out their website and Facebook page.